Face to Face: Basehor pastor Rene Castillero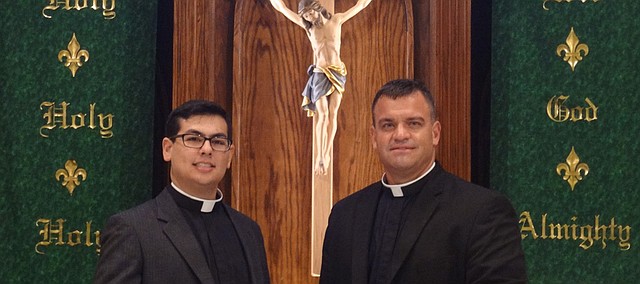 Name: Rene Castillero
Birthplace: Minneapolis, Minn., though he grew up with his grandparents on a farm in Marengo, Ill.
Family: Fiancee, Martha Scharff
Occupation: Vicar, Risen Savior Lutheran Church in Basehor
Dream job as a child: A teacher, a C-130 pilot or a world-renowned classical conductor.
He says what stopped him from the latter was he decided he "wasn't really all that great at music."
Hobbies: Working outdoors, good conversation and education — he says he jumps at any chance to teach children and teens. He also has one relatively new hobby.
"I've really only known working and going to school all my life; I started working at 15 years old," Castillero said. "It turns out that 15 years later, my fiancée and others have said 'Rene, you really need a hobby.' So I picked out hunting."
Digging deeper: Castillero said he worked as a musician in college and traveled with a wind symphony, but it — and many other things he tried after that — wasn't clicking.
"I have tried to do so many things to try to find something that I liked or was good at, and everything that I tried, I wasn't (good at it)," he said. "… I switched my majors more times than anyone else could in college."
After putting himself through college, Castillero said he was wary of the financial burden that graduate school would bring, but he finally turned to seminary.
"I always had a desire for intellectualizing truth," he said. "I was always fascinated with asking what is out there and why is it there. And that's what got me interested in theology."
He said he discovered that for him, there was no point to theology without the teachings of Jesus Christ.
Castillero has completed two years of study at Concordia Theological Seminary in Ft. Wayne, Ind., and will spend the next year as an intern in Basehor with the Rev. Robert Weinkauf before returning to the seminary for a final year of study.
"It has been a wonderful transition to the Basehor community," he said. "This is such a great place to live. And the congregation and church is an amazing place to serve."