Kansas City Connection: In the market for meat
With summer winding to a close and tailgating season right around the corner, I'd like to dedicate a hefty portion of this column to visiting three of Kansas City's best family-owned and operated meat markets.
While relative newcomers like Broadway Butcher Shop (3828 Broadway) and Local Pig (2618 Guinotte Ave.) provide excellent products and service, there's a lot to be said for the tradition and quality of multi-generational outfits like McGonigle's Market, Fritz's Meat & Superior Sausage, and Bichelmeyer Meats.
Stepping into McGonigle's Market, at 1307 W. 79th St. near Ward Parkway, is like entering a different era of American grocery shopping.
The market was opened by Bill McGonigle in 1951, but the family's involvement in the meat business in Kansas City dates back to the 1880s. Today, people visit McGonigle's for the high-quality beef and Berkshire pork, as well as harder-to-find items like lamb, veal, bison, venison, rabbit and goat. McGonigle's, which is run today by Bill's son Mike, also ships steaks across the country.
McGonigle's sells everything you need to build your own competition barbecue set-up, including a variety of rubs, sauces, marinades, wood chips, hardwood and tools. McGonigle's is also a full-service grocery store, making it a one-stop shop for tailgating, camping or picnic outings.
If you're hungry, hit up the deli for a sandwich or barbecue treat that you can enjoy at one of the picnic tables outside. I recommend the Smoker Daily Specials, including the cheese burger deluxe (Monday through Wednesday) or the Burnt Ends Sandwich (Thursday through Saturday).
McGonigle's is open from 8 a.m. to 6 p.m. Monday through Saturday and from noon to 5 p.m. Sunday. More info can be found at mcgonigles.com.
A little farther south, Fritz's Meat & Superior Sausage Company, at 10326 State Line, more than lives up to its name, with offerings including a cheddarwurst, jalapeno cheddarwurst, andouille, spicy polish sausage and bratwurst, as well as seasonal specialties. Sausages are sold ready-to-eat during lunch hours for just $2.50, or can be purchased by the pound.
Deli sandwiches include the Bette Rogers (barbecue brisket, ham and bacon), half chicken, sausage burnt ends, or sliced meats and cheeses of your choosing. Hot lunches are served every day starting at 11 a.m., while cold deli sandwiches are available any time.
Fritz's started out in 1927 at 39th Street, and relocated to its current location in 1969. The oldest smokehouse in town, Fritz's is a good spot to pick up a Thanksgiving turkey or holiday ham, and will also custom smoke meat or fish for $1.50 per pound.
In addition to its full-service meat counter, Fritz's other specialties include peppered beef jerky, corn beef, salmon fillets, hickory smoked pepper bacon and locally raised bison sticks. A special counter in the back is reserved for cheeses produced in Missouri, Kansas and across the Midwest.
Visit Fritz's between 8 a.m. and 5:30 p.m. Monday to Friday and from 8 a.m. to 4:30 p.m. Saturday, or online at fritzskcmeats.com.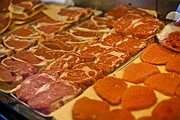 In the Armourdale neighborhood of Kansas City, Kan., just across the Kansas river at 704 Cheyenne, the Bichelmeyer Meat Company has been in business since 1946.
Bichelmeyer's was opened by my grandfather, John, and today is run by my uncles Joe and Jim and my cousin Matt. Growing up, I spent Saturdays waiting on customers at the 60-foot meat counter. While my praise for the quality of the products is anything but objective, the rib-eye steak has also impressed the judges at the American Royal, who awarded it the Grain-Finished Reserve Champion prize the past several years.
In addition to the beef, which is raised on the family ranch an hour south in Williamsburg, Bichelmeyer's offers several specialties that reflect the neighborhood's Hispanic character. Over a half-dozen varieties of street tacos are sold on Saturdays, along with fresh pork tamales sold by the dozen. Tailgaters will want to check out the wide variety of sausage, including bratwurst, barbecue sausage, hot garlic knockwurst, Polish and Italian.
Bichelmeyer Meats is open from 8 a.m. to 5:30 p.m. Tuesday through Saturday, and can be found online at bichelmeyermeatskc.com.
Events this week
A couple of quick events worth mentioning this week: At the Sprint Center, the Disney smash hit "Frozen" skates into the Sprint Center as part of Disney On Ice. Tickets are $27 and up for the event, which includes 12 performances between Aug. 26 and 31, at sprintcenter.com.
On Saturday, the first ever Kansas City Zine Con will set up shop at the Uptown Theater with more than 80 local and regional artists exhibiting zines, chapbooks, comics and other hand­crafted works from 11 a.m. to 7 p.m. Visit kczinecon.tumblr.com for more information.
— Lucas Wetzel is a writer and editor from Kansas City, Mo. Know of an upcoming event in Kansas City you'd like to see featured in Kansas City Connection? Email us about it at kcconnection@ljworld.com.