Community lauds Basehor
PRIDE

leader
When incoming Basehor PRIDE President Lew Lewis took the reins of the local group in January of this year, he knew he had big shoes to fill.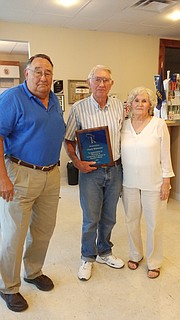 After all, he was taking over from the only chairman that Basehor PRIDE had ever known, Chuck Wilderson. Wilderson was instrumental in not only founding the organization over 20 years ago, he was also a much beloved leader.
"I can't think of anyone who does more for our community," Basehor Mayor David Breuer said of Wilderson. "He has always worked for the greater good of Basehor."
Basehor PRIDE is responsible for providing many of the city's "extras" by partnering with other local organizations on projects including the community garden, city-wide clean-up, Christmas decorations, new teacher welcome lunches and the annual Fourth of July celebration and parade. In addition, each year Wilderson personally contributes a Christmas tree to the middle school from his Christmas tree farm.
Monday night, a surprise celebration was held to honor Wilderson and the many contributions he has made to Basehor. He was presented with a plaque to commemorate his years of service to the organization.
Lewis introduced Wilderson and offered some opening remarks to begin the celebration.

"We are so lucky to have had someone like Chuck all of these years. There's really no way to really list all of the contributions he's made," Lewis said.
Understandably, Wilderson was caught off-guard by all of the attention.
"I am so lucky to live in such a close-knit community," Wilderson said. "I'm proud to be part of it. We have so many great volunteers, all working for a better community. But I'd rather wear out than rust out. These past 20 years with Basehor PRIDE has truly been a labor of love."
Wilderson moved to Basehor in 1976 and in addition to his work with Basehor PRIDE, he has served on the Basehor City Council, Chamber of Commerce Board of Directors and as president two times Southern Leavenworth County Leadership Development Board and as chairman six years. He was recognized as the Basehor Chamber of Commerce's Outstanding Citizen of the Year in 1995, and the chamber awarded him its Spirit Award in 2003.