Perky's Cafe joins downtown Bonner eateries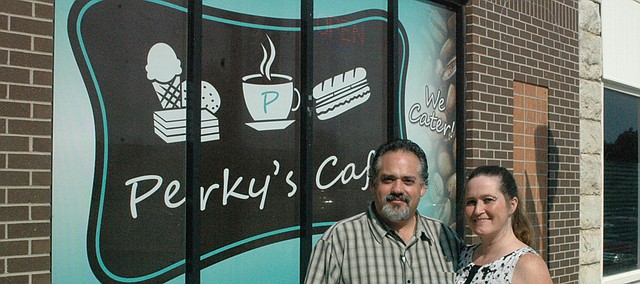 Tracy Smith has a unique way of describing his new restaurant, Perky's Café.
"Something that gives a little bit of everything with a touch of coming home," he says.
Perky's opened Monday at 129 Oak St. in downtown Bonner Springs, just in time to add to dining options for this weekend's Tiblow Days festival. As Bonner residents, Smith and his wife, Ame, are looking to expand the city's food offerings with breakfast, lunch, coffee and hand-scooped ice cream, as well as a catering service.
The couple moved to Kansas City from Utah about three years ago, but they just purchased a home in Bonner Springs in May.
"We came in, we saw the town, we fell in love with it," Tracy Smith said of discovering Bonner Springs. "She loves small towns, I like small towns, it was perfect. It has all the back roads she was looking for."
But Tracy Smith said he also felt there was a need for a "true café" that was family-friendly in town. Smith has worked in the restaurant industry for several years, most recently helping open the new Pegah's West in western Shawnee, and decided it was time to go out on his own.
Tracy Smith said that they had their hearts set on a downtown location.
"We were in love with the downtown area; we like historic," he said. "And voila, here it is; it's right down the street from us."
The name comes from Tracy Smith's habit of percolating his coffee, and on a recent trip through Arkansas and Oklahoma, the Smiths found several percolators and coffee pots in antique and thrift stores to decorate their new café.
They carry Royal Cup brand coffees and plans to eventually add an espresso machine to offer additional coffee options like cappuccinos.
Their most popular food item so far is the Perky's turkey sandwich — Tracy Smith said they gave out free samples of the sandwich in advance of opening to help drum up some business.
An item Tracy Smith also predicts will be popular are the T-Dog all-beef hot dogs.
"It's the sauce that goes on top of the hot dog that makes it," he said. "That one is all about secrets; we don't divulge with that. But it's a sauce that goes on top that people just love."
The Smith said they opted not to offer dinner hours because other downtown restaurants have that crowd covered, and they also wanted to be home with their young children in the evenings. Perky's Café is open 6:30 a.m. to 5 p.m. Monday through Friday and 8 a.m. to 3 p.m. Saturdays.
Tracy Smith said they see that the downtown area is gaining momentum, and he plans to get the word out about his café.
"We keep it very simple," he said. "When people come in the door, we get to know them by name, we treat them like family, we cook them a good product and visit with them while they're here."