Basehor-Linwood edges Maranatha in overtime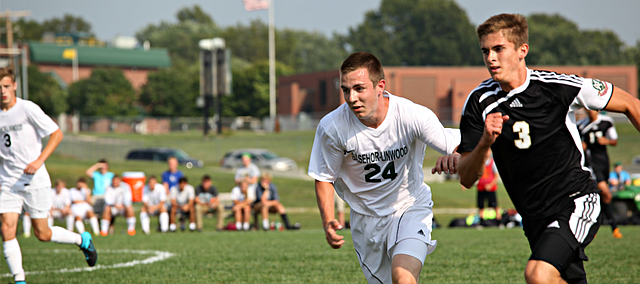 Basehor-Linwood and Maranatha Christian Academy battled back and forth all night, but it was the Bobcats that ultimately came away with a 1-0 overtime victory over the visiting Eagles on Friday in the season opener for both teams.
After 80 minutes of play without a tally on the board, the two sides squared off for just under two minutes in extra time before a corner kick from Jonathan Harms bounced around in the box and found its way into the back of the net.
"I think we were pretty composed," Basehor-Linwood coach Erik Jones said. "We were able to get them stretched a little bit, and that got us forward. We were kind of relaxed, moving the ball forward, and it just generated a nice corner. We were just able to tuck one away there."
Both teams were missing key players, but that certainly didn't diminish the quality of play on the pitch. Several scoring opportunities arose for both sides throughout the game, but neither was able to capitalize. Possession was fairly even, and both teams played with high energy and physicality until the deciding goal.
"It was a good test, and this is a great team," first-year Maranatha coach Jon Orndorff said. "You live and learn. It's good to get that out of the way the first game. We learned something. Set pieces, defensively, that's not something we've worked on a whole lot, but that's something we're going to get better at. We're decent at defending, but we just have to get those out of the box."
Junior Trevor Kincheloe recorded the shutout in goal for Basehor-Linwood and made several key stops. Maranatha sophomore Mitchell Peacher also made some great plays, including a diving save that kept the score even with four minutes to play in the first half.
"He's normally my outside defender," Orndorff said. "Both our first- and second-string goalkeepers were out. He stepped in and did amazing. We actually have a competition now for that spot if he's up for it."
Maranatha will be back in action at 6 p.m. on Tuesday, traveling to take on Topeka Seaman. Basehor-Linwood, meanwhile, will return to the field at 6 p.m. next Thursday as they hit the road to face off against Kaw Valley League foe Tonganoxie.
"I had a couple of starters out from last year's suspensions," Jones said. "But you've got to play with who you have, and I thought the guys really stepped up that were given the opportunity, which is big. We'll use them down the stretch. Early games, you never know what you have, and now we'll go back, look at some film and fix some of those things."
---
Jon Poorman is the sports editor at The Dispatch and The Sentinel. Follow him on Twitter at @JonPoorman for all of the latest community sports news.