Kansas City Connection: Charisse retains old charm as Power
&

Light alternative
Since June 2012, the French and American flags have hung in tandem outside the downtown Kansas City restaurant at 1006 Walnut St. But the restaurant that started out as Aixois Brasserie, opened by the owners of the popular Aixois Bistro at 251 E. 55th St., rebranded last fall after chef Jason Craine purchased the restaurant from the original owners and renamed it Charisse.
Charisse (named after Craine's wife) still serves many of the dishes that have made Aixois synonymous with French-American cuisine in Kansas City, from a hearty croque monsieur and quiche lorraine to steak fries and fresh salads. But with additions like a delicious prime rib sandwich (thin-sliced rib-eye served on a baguette with smoked gouda, grilled onion and jalapenos) and golden trout, Charisse's cuisine and atmosphere seem to have a new zip. An experienced bar staff and an innovative list of cocktails and desserts make this a classy happy hour alternative to the nearby Power & Light District.
Charisse is open for lunch Monday through Friday from 11 a.m. to 2 p.m. and from dinner Monday through Friday from 5 p.m. to close, and on Saturday from 5:30 p.m. to close. Happy hour runs from 4 to 6 p.m. Monday through Friday and all night at the bar. View a full menu at charissekc.com.
Irish Fest
For the thousands of people expected to hit Crown Center this weekend, the cuisine and celebration will be more Celtic in flavor, as the annual KC Irish Fest returns from Friday through Sunday.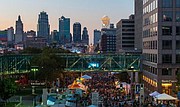 Several dozen musical and dance acts will perform on seven stages throughout the weekend, ranging from usual suspects The Elders and Eddie Delahunt to Flannigan's Right Hook, Gaelic Storm and St. Andrew's Pipe and Drum. Children will enjoy the Irish dance showcases, a contest to construct the Fairy Village, and a concert by children's performer Jim Cosgrove (Sunday at 6:15 p.m.).
And it wouldn't be Irish Fest without beer, whiskey tastings and hearty food served by local eateries like O'Dowd's Little Dublin, Stroud's and The Dubliner. Tickets are cheaper online, where a weekend pass runs $30 and a single day ticket is $12 (as opposed to $18 on site). Visit kcirishfest.com to purchase or for a full schedule of events.
First Fridays
Sept. 4 is also a First Friday weekend in Kansas City, meaning the dozens of galleries in the Crossroads neighborhood will debut new group and solo shows. Worth seeing is "Onward: Kansas City Art Institute Foundation 50th Anniversary Exhibition" at the Leedy-Voulkos Art Center (2012 Baltimore), which contains work by 60 different artists who taught in the college's foundation program between 1965 and the present.
Bring your appetite to First Fridays as well, as the Kansas City Star parking lot at 18th and McGee will be the outpost for some of the area's finest food trucks, including Bochi Wings, Crave of KC and Sweet Tooth Cupcake Cruiser.
KCAI faculty show
Outside the Crossroads, new work from current faculty at the Kansas City Art Institute is currently on display at the H&R Block Artspace at 16 E 43rd Street near the KCAI campus. "In Pursuit: 2015 Kansas City Art Institute Faculty Biennial" runs through Oct. 3. Visit kcai.edu/artspace for more information.
Thee Oh Sees
In concert this week, fans of garage and psychedelic music will want to head to recordBar on Wednesday to see Thee Oh Sees, a prolific, playful Bay Area outfit led by the force of nature that is John Dwyer. Opening up for a band as loud and energetic as Thee Oh Sees is a daunting prospect, but Minneapolis group The Blind Shake should be up to the task, if their reverb-drenched recordings on Goner Records are any indication. Tickets are $15 for the 18-and-over show.
'This American Life'
If you're a fan of "This American Life" and want to see Ira Glass in person at the Kauffman Center for the Performing Arts this fall, you'd better pick up tickets soon for the Oct. 24 event, as tickets are selling fast. "Reinventing Radio: An Evening With Ira Glass" will take a behind-the-scenes look at how the creator of the popular NPR program puts the show together. Tickets start at $39 and up at kauffmancenter.org.
— Lucas Wetzel is a writer and editor from Kansas City, Mo. Know of an upcoming event in Kansas City you'd like to see featured in Kansas City Connection? Email us about it at kcconnection@ljworld.com.