Kansas City Connection: Ugly sweaters, Legos for adults and
KU

basketball at the Sprint Center
By this point most people's calendars are just about full with holiday events and/or end-of-the-year parties. But just in case you've got a wide-open week and want to escape to Kansas City for a bit of seasonal enjoyment, here are some of this week's most exciting events.
Ugly Christmas Sweater Day Party
OK, so maybe that whole ugly Christmas sweater trend is a few years old by now, but can something that was never cool to begin with really go out of style? Ugly Christmas sweater enthusiasts of all stripes, patterns and snowflakes will convene again this year on Friday at Tower Tavern, the host of Kansas City's official Ugly Christmas Sweater Day Party. And before you launch into another rant about "those dad-gum millennials," keep in mind that the whole thing is a benefit for Operation Breakthrough, a charity whose mission is to help area children living in poverty. Tickets are $50 (or $75 for VIP) at kcsweaterparty.com and include an open bar, live DJ and a costume contest.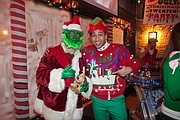 'Winter's Dream'
Tickets are still available for the Kansas City Symphony's "Classics Uncorked: Winter's Dream" event at 7 p.m. Wednesday at the Kauffman Center for the Performing Arts. Associate conductor Aram Demirjian will lead the Symphony in a performance of Bizet's "Farandole," the Dream Pantomime from Humperdinck's "Hansel and Gretel," and Rimsky-Korsakov's "Christmas Eve" polonaise. Tickets are $25 to $30 at kcsymphony.org and include a glass of wine or champagne after the performance.
'Dirty Dancing'
Most people around my age saw the 1987 "Dirty Dancing" when they were kids, but for some reason I didn't see it until my thirties. I might have even shed a tear or two, but that's no surprise considering the soundtrack includes both "Hungry Eyes" and "Time of My Life." Those hit songs and others will be part of the live staging of "Dirty Dancing," presented by The Theater League. This touring performance will be at the Music Hall for eight shows between Tuesday and Sunday, Dec. 13. Tickets are $45 and up at theaterleague.com/kansascity.
Legoland
The LEGOLAND Discovery Center at Crown Center has been entertaining kids with complex Lego displays and hands-on activities since its opening in 2012. However, the center is off-limits to adults unless they are present with children. That restriction will be lifted from 6 to 8 p.m. Thursday for an 18-and-older No Kids Allowed: Winter Wonderland event featuring a scavenger hunt, prizes and a theme build competition. Tickets are $18 at the door or $13.50 online at legolanddiscoverycenter.com/kansascity. Adults-only events take place every second Thursday of the month, and standard operating hours are 10 a.m. to 5 p.m. Sunday through Thursday and 10 a.m. to 6 p.m. Friday and Saturday. The mini "Star Wars" exhibit is on display through Dec. 31.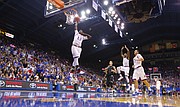 KU basketball
On Saturday, the Sprint Center will unofficially become Allen Fieldhouse East, as the Kansas University men's basketball team takes on Oregon State. Remaining tickets to see the Jayhawks play the Beavers are on sale for $60 at sprintcenter.com. Tipoff is at 7 p.m.
Tech the Halls
On the other side of the Power & Light District, rapper Tech N9ne's Tech the Halls concert will hit the Arvest Bank Theater at The Midland at 8 p.m. Saturday. Tickets are $28 at midlandkc.com. If you'd prefer to enjoy Tech's rhymes from the comfort of your own home, Google his recent "KCMO Anthem," a track he recorded in the wake of the Royals' World Series win last month. As far as local pride raps go, it's not half bad.
More concerts
On the indie side of the spectrum, few bands are making as big a splash in Kansas City as The Conquerors, whose sprawling psych sounds have been tightened up into a more compact, pop sound complete with jangly chords, tambourines and sunny harmonies.
The Conquerors are holding several shows to promote their new record: at 10 p.m. Friday at the Blind Tiger (with Drugs & Attics and El Rey-Tones); 7 p.m. Saturday at Mills Record Company (with Shy Boys); and later that night at the Replay Lounge in Lawrence. Check out more of their tunes at theconquerors.bandcamp.com, or look for their entertaining new music video, "You Must Be Dreaming."
Friday at recordBar, Chicago indie group J. Fernandez will be playing its first show in Kansas City since the release of "Many Levels of Laughter," the band's excellent album that came out last summer. Tickets are $8 for this 18-and-older show.
— Lucas Wetzel is a writer and editor from Kansas City, Mo.