Kansas City Connection: 36 Months in Kansas City
In 2010, a friend of mine wrote a "36 Hours in Kansas City" piece for The New York Times. I was impressed, but as a naturally competitive Kansas Citian, I decided to write my own guide as well. Mine was a budget-conscious endurance test titled "Kansas City on $17 a day," and in order to do everything on the list, you had to go the entire 36 hours without sleep.
Sadly, none of the national media outlets I contacted were interested in running the piece. But fortunately, the Lawrence Journal-World has given me the opportunity to write about Kansas City events and culture for the past 153 weeks, a run that ends with this article.
For my final column, I'd like to present this updated, family-friendly guide to all things KC. Readers are encouraged to pick and choose as they see fit, on whatever schedule they like.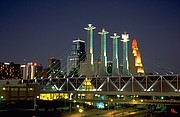 Go to a park: Roanoke Park, Loose Park, Shawnee Mission Park and Cliff Drive are all great places to walk through trails and trees in the middle of the city.
Drink coffee: Broadway Cafe in Westport, Parisi Cafe in Union Station, and Pirate's Bone in Brookside are all favorites, but there are many others to choose from as well.
Eat doughnuts at Hana's (KCK), John's Space Age (old Overland Park), Fluffy Fresh (Mission), Donut King (Independence), or the new Doughnut Lounge in Westport.
Visit the West Bottoms: It's antique store paradise down in these parts. On the south side of the Bottoms, there are a number of great eateries, bars and galleries.
Lease a luxury apartment: For the first time in decades, new apartments are being built downtown. If you have a decent income and enjoy the vibe of the Power & Light District, the One Light (open now) and Two Light (not yet under construction) towers could be right for you.
Get drunk in Westport: A civic/family tradition dating back to the pioneer days.
Hit up a farmers market in the City Market, Brookside, Waldo, KC Organics (in Minor Park), Merriam and Old Overland Park.
Check out VisitKC.com: The best calendar and all-around resource for KC culture and events, and a good friend of this column over the years.
Try the "dirty rice" lunch plate at YJ's: Served for lunch on Tuesdays. Great with hot sauce. Good pies and coffee here, too.
Keep an eye on Boulevard Brewing Company: The new and seasonal releases continue to impress. Don't snooze on this year's Bourbon Barrel Quad, which clocks in at a stately 11.8% ABV.
See a play: The Unicorn Theatre, Metropolitan Theatre Company, KC Rep, Barn Players, Just Off Broadway, and The Coterie are some of the city's premier stages and theater companies.
Go to the library: The KC Library (kclibrary.org), the Johnson County Library (jocolibrary.org) and the Mid-Continent Public Library (mymcpl.org) systems all put on excellent public programs.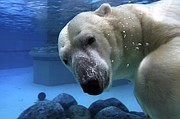 Go to the Zoo: Penguins. Polar bears. Gorillas. A tree-topping gondola ride. A swinging bridge. Reasonably decent margaritas along the boat docks of "Africa." What more could you ask for?
Listen to train whistles: You can hear them pretty much anywhere in town.
Shop for booze: Gomer's (5 locations), Cellar Rat (Crossroads), Tipsy's (Mission) and Lukas Liquors (South KC) are all great spots to stock up on New Year's brews and spirits.

Listen to the radio: KCUR 89.3 (local NPR affiliate), KKFI 90.1 (community-supported radio) and parisoftheplainspodcast.com provide a great fix of local news, events and personality.
Buy the Country Club Plaza: The city's "crown jewel" is currently on the market, and expected to fetch as much as $1 billion. Send inquiries to Information@highwoods.com.
Visit Berkley Riverfront Park: A landscaped park just east of the City Market, with jogging trails and a great view of downtown.
Skateboard through Midtown: An inexpensive way to scope out this historic, bohemian neighborhood.
Dine out in the Westside: Chez Elle, The Bluebird, Little Freshie, Novel, The Westside Local and Füd are all fresh, funky spots to dine and drink.
Go to Moon Marble: An eclectic, affordable toy store in Bonner Springs with marble-making demonstrations on site.
See world-class works of art: The Kemper, Nelson-Atkins and Nerman Museums all feature fantastic permanent collections, exhibitions and events.
Visit KC's lesser-known museums, including: The Kansas City Museum at Corinthian Hall, The Negro Leagues Museum and the American Jazz Museum at 18th and Vine, The National Toy and Miniature Museum, and the National Airline History Museum.
Take a tour of the Belger Art Center: Gallery assistant Mo Dickens provides excellent color commentary on the rotating exhibits from this astounding private collection of 20th-century art.
Try a burger at the Flea Market, Howard's, Pigwich, Town Topic, Winstead's or The Green Room.
Grill a steak using fresh meat from McGonigle's, Bichelmeyer's, Broadway Butcher Co., Anton's or Fritz's.
Eat vegetarian at Eden Alley Cafe, in the lower level of Unity Temple on the Plaza.
Dine out in style: The American, The Rieger, Bluestem, Rye, Story and Le Fou Frog are just a few of the upscale joints I'll be dining in once I start my new career in hedge fund management.
Go record shopping at Mill's Record Co., Vinyl Renaissance, Records With Merritt, Josey Records, Revolution Records and Brothers Music KC.
Smoke shisha at one of the numerous hookah lounges on Broadway or Main.
Check out Charlotte Street Foundation: This local arts organization regularly hosts gallery shows, performances and open studio events featuring some of the city's most talented artists.
Visit the Kauffman Center for the Performing Arts: The home stage of the KC Symphony, the Lyric Opera, the KC Ballet, and many other performances as well. View a schedule at Kauffmancenter.org.
Visit Science City: Features lots of hands-on educational activities for kids. Union Station and Crown Center are great spots for a family outing any time of year.
Ride the streetcar: Coming in 2016. Check out the newly branded RideKC.com for information about the streetcar, buses and the city's bike share program.
Get thrifty at Metro Thriftway: The "dollar zone" aisle at this grocery store in Kansas City's East Side is the best place to stock up on generic potato chips, kids' coloring books, and mini strawberry moon pies.
Talk to people: Not as easy or comfortable as consulting your phone, but potentially much more rewarding.
Before I sign off for good, I'd like to extend a special thanks to my editor, Jon Ralston, and to everyone who regularly read this column, especially John Naramore, Eileen Larson, and David and Karen Phelps of Lawrence. Happy New Year, and Godspeed.
— Lucas Wetzel is a writer and editor in Kansas City, Mo. You can read more of his writing at kawsmouth.com.