No. 2 Basehor-Linwood boys roll past Spring Hill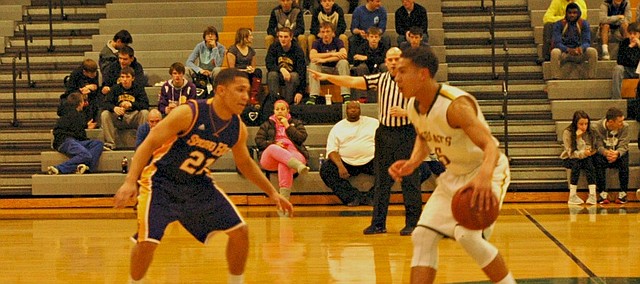 Basehor — Basehor-Linwood used a huge third quarter to pull away from Spring Hill on Monday evening, cruising to a 66-36 non-league victory over the visiting Broncos.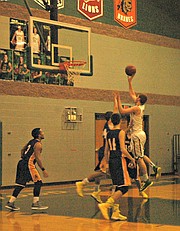 The No. 2 state-ranked Bobcats were led by big men Pat Muldoon and Carson Fliger, who scored 15 and 14 points, respectively, despite dealing with early foul trouble.
Nick Fisher added 10 points, and Brock Gilliam finished with eight for the Bobcats, who are now 16-0 this season. Basehor-Linwood is the only boys team in the Kansas City metro area without a blemish on their record.
The Bobcats had a little bit of trouble scoring early on, but they eventually picked up the slack and took their first lead of the game at 12-10 on a layup from Jahron McPherson at the 6:42 mark of the second quarter.
Muldoon's one-handed slam on a fastbreak gave Basehor-Linwood an 18-12 lead with 4:07 to play, and the Bobcats later walked into the locker room with a 24-17 halftime advantage.
"We were just a little too stagnant in the first half," Basehor-Linwood coach Mike McBride said. "We went over the weekend, but they didn't have school today either, so I felt like we were just kind of lagging around and watching the post players."
The third quarter is when the tide really started to turn. Basehor-Linwood outscored the Broncos 25-10 in the period for a commanding 49-20 lead. The Bobcats started the quarter on a 13-3 run, and Muldoon and Fliger were instrumental in the scoring outburst, combining for 13 points.
"They got more focused as the game went on, and with an experienced team, that's what they can do," McBride said. "They may not play very well for a while, but they know how to pick it up and get things rolling. We just executed a lot better in the second half.
"We started cutting, moving better, using each other, and I thought our passing was phenomenal tonight. Eventually, we just wore them down."
The Bobcats will be right back on their home court tomorrow night as they host Bishop Ward at 7 p.m. The extra game against Spring Hill, while it may look random on the schedule, was placed there for a reason.
"I like having three games in a week because if — and I stress the word 'if' — we achieve our goal of going to state, you've got three games in a week," McBride said. "It was kind of put there on purpose. We've got to bring the same intensity tomorrow."
---
Jon Poorman is the sports editor at The Sentinel. Follow him on Twitter at @JonPoorman for all of the latest community sports news.