Bonner drama club provides performance outlet for secondary students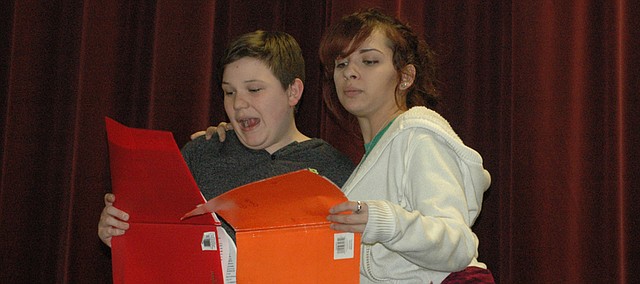 A dozen or so middle and high school students wandered about the Bonner Springs High School auditorium, Julia Ybarra-Young trying to find those needed in scene 34.
"This is just organized chaos," she joked, as she assigned other students to take on roles for the three students who were absent at the BSHS/CMS Drama Club's rehearsal for its upcoming performance.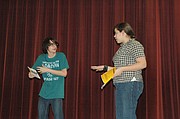 On Feb. 26, 6-8 p.m. in the auditorium, the club with put on its second annual "Dessert Theatre," presenting improvisation, duo performances and the one-act comedy "The Brothers Grimm Spectaculathon" by Dan Zolidis. Though not officially sanctioned by the school district, for the last two years, the club and its volunteer director, Ybarra-Young, have been filling a void for secondary-level students who want to learn how to speak and perform.
Students like MacKenzie Singleton, freshman, who heard about the club from a friend at the beginning of the school year.
"I'm like, that sounds really cool, because I always love to act and make people believe that I'm playing a part that I'm really not," she said. "So I came and felt really welcomed, and just kind of stuck around."
She said the club also is helping her further efforts she began a few years ago to overcome stage fright and shyness.
"Whenever we have to give a group project in front of the class, I'm usually the first one to raise my hand, because I was always afraid of people watching me," she said. "I decided I'm never going to get over that unless people watch me constantly. I still deal with (shyness) a little bit, but doing stuff like this and speaking publicly really helps me get past that block of people watching me."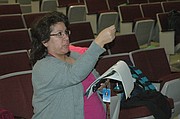 Ybarra-Young, who also is the media center assistant at Delaware Ridge Elementary, started the club after moving to Bonner Springs three years ago.
She had taken part in theater in high school and continued in community theater as she raised her family in Wisconsin. In Bonner, Ybarra-Young said she was surprised to find there weren't as many forensics or drama options for high school students and basically nothing for middle school students.
She decided to start the drama club a year later at the urging of her daughter, Maya, who was then going into seventh grade.
The club has about 15 regular participants and usually meets every other Tuesday from 3 to 4:30 at BSHS. It is still in the process of determining if it will become officially sanctioned by the school district, perhaps next year. The district supports the club, however, by providing the practice space and purchasing the performance rights and scripts each year for the Dessert Theater plays.
Because of that, the cover charge for next week's Dessert Theatre is $2 for adults and $1 for students.
"We won't recoup all the money but we'll at least be able to make a token payment back to the schools," Ybarra-Young said.
While it is a totally volunteer position, Ybarra-Young said she has loved working with the students.
"It's been a great experience for me, because I love being able to act with the kids and see how they change, because sometimes they get very self-conscious when they're in front of people," she said.
That even includes the person who pushed for the club's creation in the first place: her daughter, Maya.
"She has been very shy around other people, even though at home, she acts up all the time," Ybarra-Young said. "This year she's really started to come out of her shell around her teachers."
Ybarra-Young said no matter how much stage fright a participant has initially, they prove to become comfortable on stage.
"My thrill that I get is being able to see them translate their casualness and expressiveness when they're talking to their peers to when they're in front of an audience," she said.
Other club members were already natural performers but are using the club to get more experience.
Samuel Worley, eighth-grader, said he came to the club's first meeting and has been having fun ever since.
"My parents thought I was really funny, just acting out and stuff, so they wanted me to ask the principal if there was going to be a drama club," he said of how he first learned of the club.
Hunter Amego, a sophomore, also has been with the club since its first meeting, though at the time he only expected to do improvisation "just for fun."
"It's very fun to work with other people to make other people laugh," he said.
Amego said he also is in forensics and hopes to take part in BSHS's spring plays, so the club provides a good chance to practice memorizing lines and performing.