Organization Orientation: Bonner Springs Rotary Club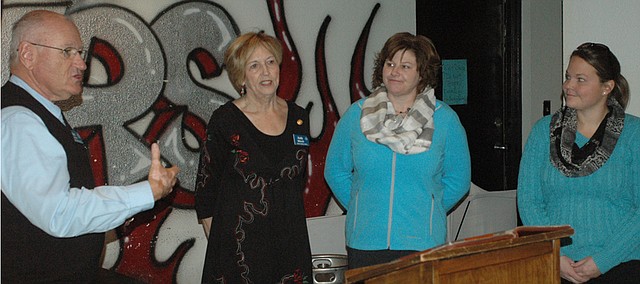 Editor's note: Caroline Boyer, Chieftain news editor, is a member of the Bonner Springs Rotary Club. The Chieftain is seeking other community clubs to be featured in Organization Orientation; for more information, contact Boyer at editor@bonnersprings.com.
The Chieftain will introduce local charitable and service groups each month in our new feature, Organization Orientation.
Club/organization name: Bonner Springs Rotary Club
Established: The international organization of Rotary was founded in Chicago in 1905. The Bonner Springs club was chartered June 25, 1936.
How it was started: Paul Harris, an attorney, formed Rotary as a place where professionals with diverse backgrounds could exchange ideas and form meaningful, lifelong friendships. Rotary's name came from the group's early practice of rotating meetings among the offices of each member.
Number of members: 25; (1.2 million worldwide)
Mission statement or motto: Service above self
Interesting fact about the group: Only 16 years after being founded, Rotary had clubs on six continents.
Who can join: Any adult who lives or works in the Bonner Springs area and is ready to take action in the community. The club states on its website: "As community volunteers, we reach out to neighbors in need. We build, support and organize. We save lives. We work locally and globally." Those interested in joining are asked to attend several meetings, as the club's guest, to learn about the club.
Membership dues: $120 annually
Meeting frequency: Every Monday, with the exception of some holidays, 11:45 a.m., Twisters Grill & Bar, 13100 Kansas Ave. Members are not required to attend every meeting.
People/things it benefits: Rotary is a worldwide organization of business and professional leaders that provides humanitarian service and encourages high ethical standards in all vocations. Its main international mission since 1979 has been supporting the eradication of polio, and in more recent years, it has supported bringing safe drinking water to third-world countries.
Locally, the Bonner Springs club is a big supporter of the Head Start preschool for underprivileged children, purchasing coats for each of the 63 students every winter and holding a book drive for the students; Christmas in October, helping a local resident in need with home repairs; Vaughn-Trent Community Services, holding a Christmas auction that raises thousands of dollars each year; and awarding three $1,000 scholarships to Bonner Springs High School seniors each year. The club also organizes the annual Tiblow Trot and help sponsor the Mayor's Banquet during Tiblow Days.
Biggest fundraisers: The Tiblow Trot (during Tiblow Days), the Vaughn-Trent Christmas Auction, and every other year, the club plans a large fundraiser to benefit two or more local nonprofit agencies. For example, in November, the club had a "Speakeasy" event, which raised funds to benefit Vaughn-Trent and Allegro Children's Choir's scholarship fund.
Contact information: Club President Bill Miller, 913-422-7337, or learn more at bonnerspringsrotary.org or facebook.com/BonnerSpringsRotary.