Kansas City Connection: A new home for Halls
Last week, news broke that Olathe's Great Mall of the Great Plains was closing. Metcalf South mall announced its closing last fall, and Blue Ridge Mall, Bannister Mall and several others are all part of Kansas City's distant commercial past.
Crown Center, however, remains a vital shopping center, buoyed by restaurants, theaters, tourist destinations, small stores and the sparkling, expansive new Halls department store along 2450 Grand Blvd.
The new Halls extends from Crown Center's fourth level, across the pedestrian bridge and into the building that housed the original Crown Center Halls. After Halls on the Country Club Plaza closed last year, the Crown Center location was renovated and expanded into a new 60,000-square-foot space, with women's shoes, cosmetics and other departments much larger than in the previous locations.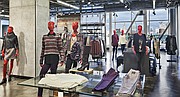 The impression one gets upon walking into Halls is that of luxury and class. Yet even for a thrifty and not especially enthusiastic shopper like myself, it's not at all off-putting. The staff is friendly, the lighting is bright, the floor layout well-considered, and affordable deals can be found amid the higher-priced items, especially on The Bridge, a section geared toward younger, more budget-conscious shoppers.
The H Bar, an arched, wood-paneled counter near the fourth floor escalator, offers a variety of wines, coffee drinks, soups, sandwiches and other refreshments. It reminds me of the upscale shopping centers in western Europe — places I couldn't afford to frequent but enjoyed visiting once in a while for a taste of the good life. The H Bar's Happy Hour menu, available from 4-6 p.m. Monday through Saturday, puts that luxury within closer reach, with $5 wines, $6 cocktails and $6 food plates. For a comprehensive look at Halls brands, departments and promotions, visit halls.com.
More Crown Center fun
Elsewhere in Crown Center, you'll notice a lot of families and small children. Some of them are lined up for Fritz's Railroad Restaurant downstairs (fritzskc.com), and others are there on school trips to see a play at the Coterie. Others might be watching the fudge and other chocolate treats being made at Chip's Chocolate Factory, which offers $5 tours.
Through May 3, Crown Center also has a free Fairy Tale Village exhibit, in which small children can tour the landscapes of stories like Cinderella, Jack and the Beanstalk and Little Red Riding Hood.
Upstairs, the Crayola Store has a coloring corner where kids can draw or do crafts while their parents browse the store for affordable gifts, games and activities. For a full list of Crown Center shops and events, visit crowncenter.com.
James Beard semifinalists
Perched above the Halls building is the iconic American Restaurant, one of the region's most famous upscale restaurants and the home to pastry chef Nick Wesemann, one of the city's semifinalists for this year's James Beard awards. If you're looking for somewhere to celebrate a special occasion, the modern cuisine at the American is one of a kind. Visit theamericankc.com to make reservations.
Other area James Beard semifinalists (finalists will be named on March 24) include Howard Hanna, the executive chef of the Rieger Hotel Grill & Exchange (1924 Main St., theriegerkc.com)  and Patrick Ryan, who founded the modern Mexican restaurant Port Fonda (4141 Pennsylvania, portfonda.com) after beginning it in an airstream trailer several years ago. (Port Fonda is also set to open a location in Lawrence later this year.)
Bluestem (900 Westport, Bluestemkc.com), operated by Colby and Megan Garrelts, was nominated in the Outstanding Restaurant category. I've had great dining experiences at all of the above locations and would highly recommend them to anyone.
Concerts
On the music front, country music legend Merle Haggard will perform Monday night at the Uptown Theater. Tickets cost $40 and up at Ticketmaster.com for the 8 p.m. show. And on Wednesday evening, 21-year-old pop sensation Ariana Grande will perform at the Independence Event Center, with tickets ranging from $57 to a $2,200 meet-and-greet package. The last time she was in the area, Grande visited a haunted castle in Kansas City and drove through Stull, where she detected the presence of demons (no joke — it's in the November 2013 Complex Magazine).
Let's hope her next visit to the area is equally memorable, if perhaps a bit more spiritually uplifting.  
— Lucas Wetzel is a writer and editor from Kansas City, Mo. Know of an upcoming event in Kansas City you'd like to see featured in Kansas City Connection? Email us about it at kcconnection@ljworld.com.