First-degree murder charges filed in robbery attempt at She's A Pistol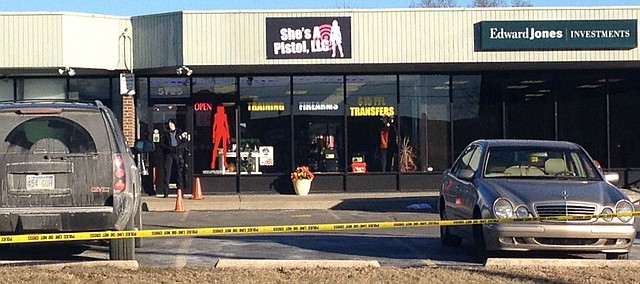 Shawnee — Four men have been charged in the deadly robbery of a gun store Friday afternoon in downtown Shawnee that turned into a firefight, killing one of the store's owners.
Hakeem Willie Malik, 18, Londro Emanuel Patterson, 20, Deanthony Armond Wiley, 19, and Nicquan Ke-Aaron Midgyett, 19, have all been charged with aggravated robbery and first degree murder. All of the men have Kansas City, Mo., addresses and two of them have histories of weapons related charges in Kansas City.. They are being held on a bond of $500,000 each.
Malik made his first Johnson County District Court appearance last week from Johnson County jail via a closed-circuit television feed as he was the only defendant to not be hospitalized. He was not required to enter a plea and requested a court-appointed attorney. Midgyett was released from the hospital last week. Magistrate Judge Dan Vokins appointed each of the defendants private attorneys and set Jan. 22 as the next court date for all four suspects.
Jon Bieker, 44, co-owned She's A Pistol, 5725 Nieman Road, with his wife, Becky Bieker. He died from the gunshots wounds he sustained during the robbery.
On Friday, Shawnee police responded to emergency calls at about 2:10 p.m. The four men, according to Maj. Dan Tennis of the Shawnee Police Department, tried to rob the store and the robbery turned violent. Tennis said Becky Bieker was reportedly punched in the face before shots were fired by the suspects and the store owners.
Directly next to She's A Pistol is Financial Advisor Keith Winterhalter's Edward Jones office. There were two clients and two employees in the building when the robbery occurred. Winterhalter said he heard screaming after some initial shots then a "flurry" of additional shots. He moved his clients to an office on the opposite side of the business and told his assistant to get on the ground and to stay away from any doors or windows. The whole thing lasted just about two minutes, he said, and two bullets came through the wall facing She's A Pistol.
"It was a very scary situation, we are not yet recovered from it," Winterhalter said. His office remained closed on Monday as the Johnson County Crime Scene Investigators continued to look for evidence in his office.
When police arrived at She's A Pistol on Friday, Tennis said they found the Biekers and two of the suspects still inside. Tennis said no customers were in the store. Jon Bieker and the two suspects were found in critical condition, Tennis said.
"As for the sequence of events in the store, it's too early to tell exactly what happened," Tennis said.
Becky Bieker issued a statement Saturday using the She's A Pistol Facebook page and crediting her husband with saving her life.
"Although tragic, he saved my life because he carried a firearm," she said.
Jon Bieker was taken to an area hospital where he was later pronounced dead. One of the suspects shot during the altercation, Tennis said, was transported to Kansas University Hospital for surgery and critical but stable condition as of Monday, according to police. Becky Bieker sustained minor injuries and was released from the hospital on Saturday. One suspect remains listed in fair condition at Overland Park Regional Medical Center.
The two suspects who escaped the store fled east on foot toward a residential neighborhood, Tennis said. Tennis said Shawnee police and emergency crews from Merriam, Westwood and Lenexa all responded to the scene of the shooting and created a perimeter to search for the final two suspects. Shawnee's City Hall as well as Hocker Grove Middle School and other schools in the area were placed on lockdown as police searched the area.
Mike Unterreiner, who owns nearby Hartman Hardware, said that in the 30 years he has owned his business, he had never experienced a crime like this in downtown Shawnee.
"I'd never seen so many police," Unterreiner said.
About 10 minutes after the attempted robbery, police received a phone call from a woman at her home on the corner of 58th and Bluejacket streets saying that a man was inside her screened porch, Tennis said.
"She said someone was on her back porch, knocking," Tennis said.
Police arrived and arrested the two suspects without incident, Tennis said.
Tennis said police are investigating why the men targeted the store. Shawnee police also confirmed Saturday that they are working with the Kansas City, Kan., Police Department the see if the suspects in Friday's attempted robbery are linked to five aggravated robberies in Kansas City, Kan., over the past month.
Two of the suspects, Patterson and Midgyette, are currently facing or have faced weapons charges in Kansas City, Mo., according to court records. Patterson pleaded guilty to unlawful use of a weapon in Jackson county in September.
According to court records, Patterson and two other men were walking in the middle of the road when police found them with firearms. They told the officers that they had the weapons for self-protection, according to court documents. Patterson was placed on three years' probation and ordered to serve 40 hours of community service. With the charges Patterson now faces from the Shawnee incident of Friday, his probation will likely be revoked and he may be required to serve up to three years in Missouri prison for the previous weapons charge.
Midgyette is currently facing two charges out of Jackson County. He was charged with unlawful use of a weapon and attempted assault on a police officer after he was accused by a woman that he was holding their eight-month-old son in a car at gun point, according to court documents. He then allegedly spit at an officer when he was being arrested. The case is currently pending in Jackson County court.
Both, along with Malik and Wiley, all now face first-degree murder charges in the death of Jon Bieker. Kansas criminal law states that the killing of someone during the attempt to commit an "inherently dangerous" felony such as robbery constitutes first-degree murder charges. If convicted, each defendant faces a sentence of life in prison with no chance of parole for 20 years.
She's A Pistol is a federally licensed gun store primarily owned by Becky Bieker. The store is a self-described gun store for women and teaches classes in self-defense, situational awareness, basic and advanced firearms training, concealed carry and NRA registration. The store also teaches nonlethal self-defense classes and concealed-carry classes.
The Kansas State Rifle Association and members of the community have set up a memorial fund for Jon Bieker to help with funeral and other expenses. For more information on that fund or to donate, click here. Two Go Fund Me accounts have also been set up by friends of the family and by Tarra Stoddard, editor of the magazine The American Woman Shooter. They can be found here and here.
Mayor Jeff Meyers issued a statement Friday evening addressing the robbery and Jon Bieker's death.
"Today is a day of great sadness in our city," Meyers said. "Jon and Becky are respected business owners in our community who do things the right way and are always willing to go out of their way to help others. The simple fact is there is no place for this type of violence in Shawnee or any other city. We pride ourselves on being a safe and friendly city and today's events, while unbelievably tragic, will not change that. I want to pass along my condolences to the entire Bieker family. As they deal with this tremendous loss, I know our community stands ready to assist in any way that we can. "
Watch for additional information at shawneedispatch.com.
Operation 100 News contributed to this report.