BSHS

grad with renal failure thankful for community support
Benefit event set for July 25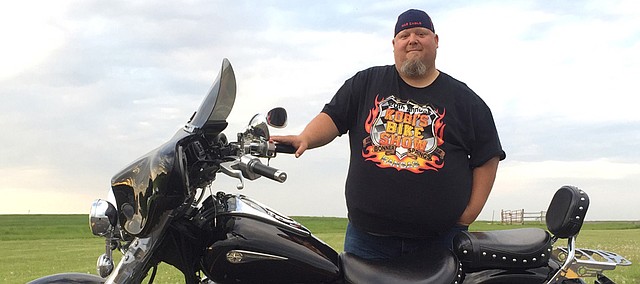 Jason Harrington said while he knew he had a chronic kidney disease, he didn't know how serious it could get.
The Edwardsville native and 1996 Bonner Springs High School graduate was diagnosed with a kidney disorder known as IGA Nephropathy in 2007.
"The doctor gave me this medication and essentially said 'Take this medicine and it should block all the bad things that could happen to your kidneys,'" Harrington said.
He said he was never told that complete renal failure was a possibility, so even when his kidney function started to decrease last November, it still was a shock when he was told he had reached Stage 4 renal failure in February.
"Now I've talked to other people and found out that with that disease, it's not 'if' your kidneys will stop working, it's 'when,'" he said. "It was frustrating because I was under the impression that my kidneys would continue to function.
"Now here I am, 37, with renal failure."
Now required to do daily dialysis that makes it impossible for him to work, Harrington said doctors have said it would be a good two years before he is even eligible for a kidney transplant. He has already undergone two surgeries, with another scheduled next month. As he faces medical bills and other day-to-day bills, his friends have organized The Harrington Kidney Bike Run, set to begin at Kobi's in Downtown Bonner Springs July 25.
Harrington's friend Trevor Wyatt offered to organize the event for Harrington because Wyatt and Harrington have been participants in so many charitable motorcycle rides in the past.
"At first it was like, 'No, absolutely not, I'm not that guy,'" Harrington said. "… But after him talking to me and a couple of other friends, they were like, 'This is what these things are designed for. You've helped out a lot of other people on rides like this; sit back and let them do it for you.'"
Harrington said he also was motivated to accept help for his children, Ana, 14, and Caleb, 10, of whom he has shared custody.
Harrington said he currently does in-home peritoneal dialysis treatments every day, a type of dialysis that takes about 45 minutes and must be performed every four to five hours.
"That makes it sound kind of easy, but it's really pretty horrible," he said. "It's on my mind 24/7, because I have to arrange my schedule to still live a somewhat normal life but still be able to do things my kids want to do."
Harrington is unable to work as a teamster union concrete truck driver, a position he has held since 2006, because state regulations do not allow approval of a commercial driver's license for those on any type of dialysis.
Harrington has applied for disability payments but won't get his first until August. And because the union can hold his job and seniority for only a year and he expects it to be two years before he could potentially get a kidney transplant, Harrington expects he'll need to find a new line of work.
"For now, I'm trying to think just what I need to do to live, but I also keep thinking, what am I going to do in two years?" he said.
Harrington said he is very thankful for those organizing next week's event.
"It's a horrible reason that we're getting together, but I think it's going to be a good time," he said.
Registration for the ride benefitting Harrington begins at noon, with the ride beginning at 1:30 p.m. The ride will travel from Kobi's through De Soto, Lawrence and Tonganoxie before returning to Kobi's. For more information, email Donorforjason@yahoo.com.