Face to Face: Bonner Springs city employee Justine Smith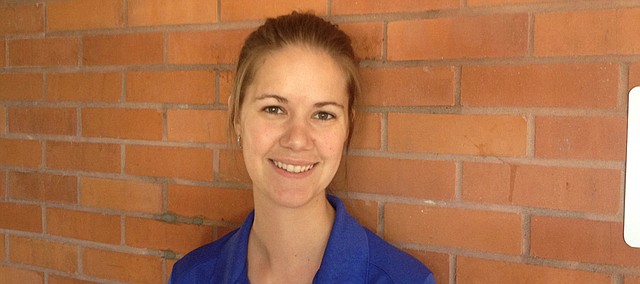 Name: Justine Smith
Birthplace: O'Fallon, Mo.
Family: Parents and two older brothers
Occupation: Recreation Coordinator, Bonner Springs Parks and Recreation
Dream job as a child: Scuba diver … sort of.
"I always thought, as a kid, that it would be cool to be the person who cleaned the fish tanks at places like Bass Pro (Shops) in scuba gear and just chill with the fishes," she said.
Smith eventually chose a parks and recreation career path that similarly suited her love of the outdoors.
Hobbies: Smith said she recently took up bicycling, but a hobby she has been into for several years is geocaching. The activity is one often promoted by parks and recreation programs, but Smith said she actually got into it in high school.
"One of the girls I went to high school with took me out one day," Smith said. "She knew I liked nature, and I stuck with it."
Digging deeper: Smith said she has her father to thank for her affinity for fishing and camping, and he encouraged her to find a career related to that.
"Dad kind of pushed for a park ranger job," Smith said. "But I went to Northwest Missouri State, and they didn't have specifically that (major)."
So she decided to enter the school's parks and recreation management program. She said she quickly developed an appreciation for the field; a trip to Colorado to study various parks and recreation facilities and programs cemented it as her career.
"It was a blast; it was great," she said. "The teachers were awesome, (as was) everything we got to do with it. We got to explore every aspect of it, whether it be corporate or the physical therapy side of parks and recreation."
Smith worked part-time in the Missouri towns of Maryville and St. Charles before accepting the full-time position of recreation and facilities assistant in Bonner Springs last August. She was recently promoted to recreation coordinator.
"I've learned a lot," she said. "Since it is a smaller department, I've got to do a variety of things I wouldn't have got to do in different, larger department. So I've gained a lot of experience here."