Former police officer buys Bonner office building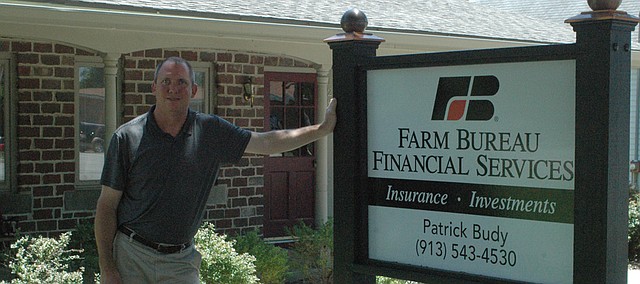 For more than 14 years, Patrick Budy's drive to work ended at 120 N. Nettleton Ave.
Now, less than a year after retiring as a police officer with the Bonner Springs Police Department, his drive to work is bringing him back to the very same block.
"I'm only driving about 200 more feet than I did for 15 years," he said. "Almost the same parking lot, I just have to drive across the street."
Budy purchased the building at 129 N. Nettleton Ave. last month and moved in his Farm Bureau Financial Services Agency, opening July 1. The office offers insurance and investment services.
Budy retired from the police department last September because he found a work opportunity with Farm Bureau Financial Services. He had decided to transition careers because of his three young sons, now ages 4, 3 and 1.
"I really wanted to spend some time with them, and this job gave me the opportunity to be a little more flexible on my time," Budy said.
He started with an office in Overland Park, but then an opening in Farm Bureau's coverage area came up in Bonner Springs, and Budy said he was happy to be assigned to the area he knew so well.
Budy, who lives in Tonganoxie, briefly worked in the office of another Farm Bureau agent in downtown Bonner Springs, but he wanted his own space. He said he wasn't necessarily planning to buy a building for his business, but an opportunity arose because Jill Jenkins had closed her store, Magnum Opus, and wanted sell the building that housed both the store and the Bonner Springs-Edwardsville Chamber of Commerce office.
"My wife and I talked about it, and we decided it was kind of scary, but let's go for it," he said. "Obviously our goal is to grow our business and we plan to stay — I will retire from here."
The purchase was complete in June, and Budy's office opened in the new space July 1.
In the process, Budy discovered some paperwork that showed the building housed a Farm Bureau Agency in the past, and other longtime residents confirmed that.
Many in the community will remember Budy because for nine of his years with the police department, Budy served as the D.A.R.E. officer. He said the teaching aspect of D.A.R.E. has carried over into his current job.
"That's one of the things I enjoy about insurance — I enjoy the teaching side of it, because a lot of people don't understand insurance," he said. "And the people I meet with, whether they become a client or not, will come away with a little bit of an education."
Budy already is becoming active in the community through his agency, as a sponsor for Bonner Springs Elementary's iWalk iRun for iPads in the spring. He said he also is planning to be involved in this year's Tiblow Days parade.
Budy said he knows there has been a lot of turnover in Farm Bureau agents in the area, and he wants the community to know he is here to stay.
"I was here for 15 years and figured this was a good fit for us to start our business," he said. "I know a lot of the community; I've been active in the past and I want to continue to be active in the community."