Mother-daughter duo opens Bonner Springs event space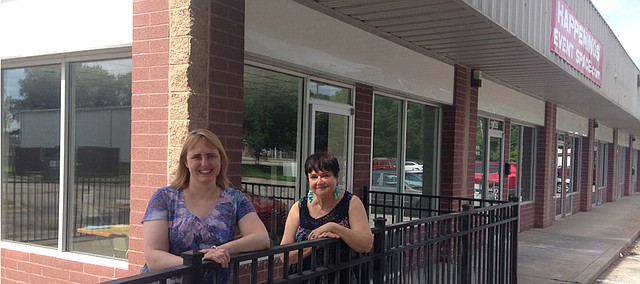 Loey Lockerby said finding a hassle-free special event space, especially in her native Wyandotte County, has been a constant challenge.
"We've always had trouble finding places to have events, birthday parties and things like that, that didn't cost a fortune or have all kinds of rules attached to them about what you could do," Lockerby said.
So after years of thinking about how she would operate an event space business of her own, she and her mother, Kay Huddleston, decided to take the idea and run with it. Now they are preparing for Saturday's grand opening of Happenings Event Space, 11635 Kaw Dr., Bonner Springs.
The 3,700 square-foot space has a maximum capacity of 400, but the duo says the goal of the business is to be accessible, affordable and adaptable for anybody.
"We're looking to make this a space where people can do just about anything," Huddleston said. "… I don't want to turn anybody down, if we can help it."
The space's hourly rate includes access to a kitchen and wi-fi service. For an additional, negotiable fee, Happenings will also provide electronics equipment, set-up and clean-up service, and more.
It was easy for Lockerby to sell the business idea to her mother, a semi-retired music therapist and piano teacher.
"When we started this, I thought I could have music activities here," she said.
Both lifelong "Dottes," they said they wanted their business to be in the county.
"We didn't look at anything outside of the area because we wanted it to be about our community," Huddleston said.
They said they also hope to support the use of Wyandotte County vendors for events.
They began looking for a location for the business last October and stumbled upon the former Speedway Grill in December.
"We liked the location here because it's easy to access off of I-435 and K-7, and it's easy to tell people how to find it," Huddleston said. "And anybody who has been a 'Dotte' for any time at all knew where the Speedway Grill was."
The duo has been remodeling since May largely with the help of friends a family, though cleaning up a space that was formerly a bar has been difficult.
"We've found substances we can't identify stuck to this floor," Lockerby said.
In fact, the floors will be clean but without their final finish at Saturday's Grand Opening. The final touches will be complete by Aug. 1, when the business has its first rental.
And they've had inquiries from everyone from a woman who teaches bridge classes to someone who runs speed-dating events.
"Just tell us what you want to do, and we'll work out a price for it," Lockerby said.
The grand opening event, running from noon to 8 p.m., will include food, vendor information, and live music. Folk singers Jim & Sally will perform at noon, and country band Field of Dreams will take the stage at 2 p.m.
A ribbon cutting with the Bonner Springs-Edwardsville Chamber of Commerce is set at 4 p.m., with a meal offered at 5 p.m. and singer/songwriter Alan White performs at 7 p.m.
More info can be found at happeningseventspace.com.