Basehor-Linwood ready for continued success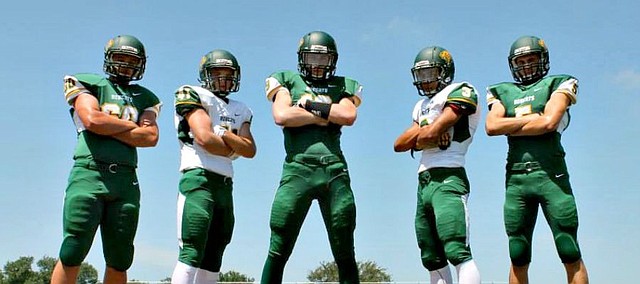 The day begins at 6 a.m. sharp, just before the sun rises on a steamy Tuesday morning in July. As Basehor-Linwood football players enter the school's weight training facility, the door that shuts behind them displays a simple and poignant message.
"Do something today that your future self will thank you for," the sign reads.
The Bobcats have been working hard during the offseason, preparing themselves to take another step forward in coach Rod Stallbaumer's second season at the helm. Basehor-Linwood made a dramatic turnaround in 2014, finishing with a 7-3 overall record and a 4-2 mark in Kaw Valley League play. They won just three games the season before.
The Bobcats saw their campaign come to an end with a 63-0 loss to eventual state champion Bishop Miege in the Class 4A-I regionals. But despite that loss to the Stags and the loss of 13 starters, the team has a lot of confidence heading into the 2015 season because of the success they experienced a year ago.
"It's going to be a really good year," senior defensive tackle Paul Frith said. "We've really come together as a team. Last year, I think we weren't expecting a good season, but now that we know what we're capable of, I think we'll have a really good year. … Last season has given us a lot of motivation. Ever since we lost to Miege, we've been working our tails off and just coming together as teammates and forming a bond."
If the Bobcats are going to remain near the top of the Kaw Valley League standings, they'll have to do it with a lot of new faces. The biggest strength of the team might be the defensive backfield, where it returns three of four starters — senior free safety Jahron McPherson, senior strong safety Nick Fisher and junior cornerback Eric Scott. Fisher led the team with six interceptions last year.
The linebacking corps returns two starters with seniors Ryan Potter and Austin Roberts. Senior Austin Ettinger and junior Chas Rollo are also expected to contribute. Basehor-Linwood allowed just 10 points per game during its seven victories last season, but also surrendered 53, 59 and 63 points in its losses to Bonner Springs, Piper and Miege.
"The expectations are really high," said Potter, who recorded 43 tackles last season. "We have a strong defensive unit. We're strong in the defensive backfield, but we're all aggressive and we all pursue the ball really well. … We're a pretty stacked defense, I would say. No one's going to be throwing the ball on us. With our run defense, we have a lot of big linemen down there, and they don't let anybody through."
On the offensive side of the ball, the Bobcats return just four starters. One of them, however, is junior quarterback Justin Phillips, who threw for more than 1,000 yards and seven touchdowns as a sophomore. Basehor-Linwood also returns its leading rusher, Ettinger, who ran for nearly 700 yards and averaged 5.5 yards per carry last season. MacPherson should also provide a spark again after scoring six touchdowns and racking up nearly 500 yards of total offense.
The real question offensively is with the guys up front. The Bobcats lost all five of last year's starters to graduation and will need some new faces to fill those roles.
Basehor-Linwood will open its season at 7 p.m. on Thursday, Sept. 3, at Baldwin. The Bobcats won last year's contest 20-17 in overtime. They begin KVL play the next week with a home matchup against Lansing. Basehor-Linwood will once again face Piper, Atchison and Tonganoxie in district play.
"The KVL league race should be top heavy with Bonner Springs returning numerous starters, as well as Piper, who has become a fixture near the top of the league," Stallbaumer said. "The district will be tough again with Piper and an Atchison team that returns many players, as well as an improved Tonganoxie team, all battling it out."
---
Jon Poorman is the sports editor at The Sentinel. Follow him on Twitter at @JonPoorman for all of the latest community sports news.