Basehor accordionist shares 'alien' instrument with grade schoolers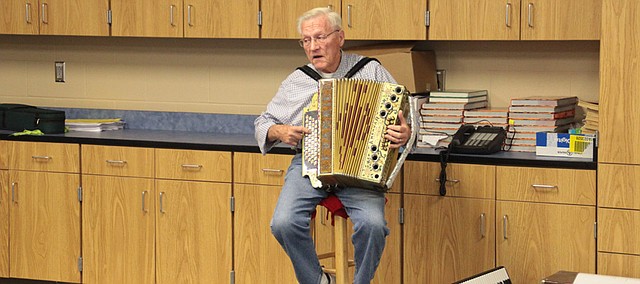 Playing the accordion is no mean feat — a fact Frank Palcher knows all too well.
"It's not an easy instrument to learn, and a lot of people don't really have a feel for it, for what it takes to do it," the Basehor resident says.
For example, Palcher pulls out his accordion from the 1950s, the kind with a piano on the player's right side and a complicated set of bass keys on the left.
"This weighs about 27 pounds," he says. "It's kind of cumbersome, but you can play once you learn to balance it, push and pull at the right time, keep time, know the keyboard and the bass side, and keep air in the bellows."
And when you add in the fact that accordions have many configurations and types, an accordionist can't always just go from one accordion to another with ease. Palcher, 76, has been playing the accordion since he was 6 years old, and now he shares his experience with elementary school students in Basehor-Linwood USD 458.
Palcher comes from a long line of accordion players, going back at least to his great-grandfather, though he says he is probably the end of the line — none of his three daughters took up the instrument. He took lessons until he was a freshman in high school and played for his own enjoyment after that, playing with what he called a "hillbilly" band for a summer before entering the military.
"Obviously, I couldn't take it with me, but every time my folks came to see me during the course of my four-year enlistment, they brought the accordion with them, and I ended up playing then," Palcher said.
After that, Palcher said he was too busy going to school and then raising a family and working to play often, but in about 1985, he began attending a Wednesday night gathering of musicians with well-known Kansas City accordionist Don Lipovac.
"That's what stirred the interest again," Palcher said.
He moved to Basehor in 1991, and about three years later joined the Ed Grisnik Polka Band, a five-member group who all have roots in the Strawberry Hill neighborhood of Kansas City, Kan., with a mix of Slovene and Croatian heritage. They still play a few gigs each year.
Palcher first gave a presentation to elementary schoolers in USD 458 in the fall of 2013 at the request of Cindy Reynolds, music teacher at Glenwood Ridge Elementary.
"She clues me in as to what level of music I can talk to them about," Palcher said. "The older ones, I can talk to them about how to make the minor keys and major keys, that makes sense to them. The younger ones won't understand that, so I just show them what I can do."
In addition to his 1950s-era accordion, Palcher shows the students an A. Mervar accordion that he got from his uncle that was made in the early 1900s, purchased in Cleveland. The accordion has a diatonic buttonboard, instead of a keyboard, on the right-hand side.
Palcher had to teach himself how to play it, after Lipovac gave him about a 10-minute lesson.
"It's counterintuitive to this," he said, comparing the antique to the 1950s version. "You have to have in your mind the phraseology of the music, and you're about to change, that means you're going to have to pull out instead of push in."
Palcher said he has enjoyed sharing his instrument with elementary students both because it gets him out of the house and because he wants to expose today's children to an instrument that is becoming somewhat obscure.
"There's kids who have no idea what I'm doing or what I'm playing — it's just an alien instrument of some sort, and I just make music with it," he says.