Historic endeavor:
BLHS

students head to national competition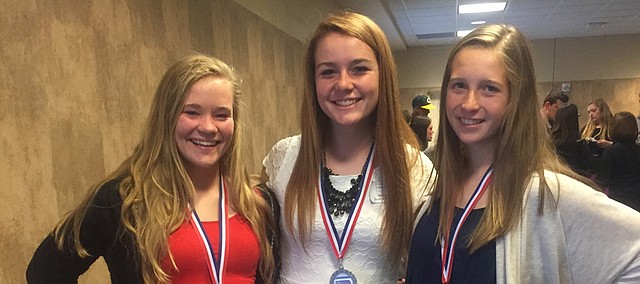 On June 29, 1956, President Dwight D. Eisenhower signed the Federal-Aid Highway Act, creating a 41,000-mile network of interstate highways spanning the nation.
Almost exactly 59 years later, three Basehor-Linwood High School students are hoping that their research project about Kansas native Eisenhower and his act will make a good impression at the National History Day national competition June 14-18 in Washington, D.C.
Madison Bowers, Calder Holland and Claire Walsh, who all just completed their sophomore year at BLHS, will leave for the competition on Sunday to present their project, "Eisenhower Paves the Way," the culmination of a year's worth of work that earned a first place award at the state competition last month.
The project was part of an assignment in their honors-level world history class that they had the option of entering into the National History Day competition. The three needed to match the theme "Leadership and Legacy," and Bowers came up with the idea to do something on Eisenhower's involvement in the creation of the national interstate highway system.
"The interstate system virtually touches everybody in America," Bowers said.
It took some convincing, but Hollond and Walsh soon agreed to the idea.
"It's more of a local thing, and we wanted to go to nationals from the beginning, that was our goal, and they generally pick things that involve the state you're in or the area you're in, and we figured this was a good thing to represent Kansas," Walsh said.
"We also had a leg up because we were able to go to the Eisenhower birthplace, and if we'd picked someone from Virginia or something that would have been impossible," Hollond added.
They knew they wanted to make it to the national competition because Bowers's older sister attended the competition two years ago, and she wanted to follow in her footsteps.
"Because of that, we knew it was an attainable goal," Hollond said.
"And we figured if we're putting all this work in for class, we might as well get something out of it," Walsh joked.
Thanks to the wealth of local resources, the trio easily surpassed the required 90 primary sources, ending up with more than 100 in their annotated bibliography.
They had the option of creating a documentary, paper, exhibit, website or performance, and they said they chose an exhibit to rely on their natural creative abilities. They eventually created a multi-tiered exhibit circled by a road.
They spent the first semester of the year researching and the second building the project and presenting first to their class and then at the regional and then state-level National History Day competitions.
They said the competitions were largely difficult because they knew so much about their topic that it was hard to decide who would speak during the interviews with judges.
"It's kind of hard because we're all pretty good friends, but we all still talk over each other," Bowers said.
Each had a favorite takeaway from their months of research. Bowers said she liked learning that Eisenhower actually signed the act that passed the interstate highway system while he was in the hospital, and Walsh said she liked learning that the interstate system actually made roads safer.
"Obviously, growing up in Kansas, you learn a lot about Eisenhower," Hollond added. "But I'd mostly learned about his military presidency and I'd never heard of the interstate highway system."
USD 458 has supported the girls' trip to nationals by having a district-wide jeans week, which raised nearly $800, and funded the shipping of the project to Washington, D.C. The BLHS booster club also paid the registration fees.
Beyond that, the trio are self-funding their trip and have done a lot of fundraising, including a raffle Saturday at Dairy Days. For anyone who would like to give additional support, they created a donation account at gofundme.com/blhsnhd.