Art festival, patriotic celebration to take over Downtown Bonner June 27
June 27 will be a day full of entertainment in Downtown Bonner Springs.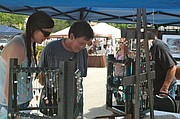 Beginning with the Bonner Springs Arts Alliance's second-annual Festival of the Arts from 9 a.m. to 6 p.m., residents and visitors would have just enough time to grab some food at a local restaurant before enjoying the Bonner Springs City Band Concert at 8:30 p.m. and the 15th Annual Bonner Blast fireworks display about 9:45 p.m.
Laura Burch, president and founder of the BSAA, said the less than 2-year-old organization is doing its best to establish the Festival of the Arts as a premier art festival in the Kansas City area.
"We need to figure out how to do that without spending thousands and thousands of dollars," she said. "We've been handing our flyers, talking to individuals and getting it out on social media."
This year, the festival will welcome about 40 artists from all around the metropolitan area, including Shawnee, Lawrence and North Kansas City, Mo., and from as far away as the Wichita area.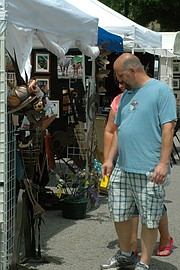 "We have more art this year than we do crafts, so we're trying to stay a little more true to our reason for being," Burch said.
BSAA member artists will have raffles at their booths to benefit the Arts Alliance. Several artists also will be demonstrating their art, including a Raku firing.
Food trucks and snacks will be mixed in among the booths, which will be spread up and down Oak Street and Second Street.
One change this year will be the live music location. For the first-ever event last year, a stage was set up in the Centennial Park parking lot, but Burch said that turned out to be too far away from the action.
This year, bands will perform in the Pink Zebra parking lot off Oak Street. The bands, which all specialize in Americana or folk music, will include: The Blackbird Revue from 11:30 a.m. to 12:30 p.m.; The Thursdays from 1 to 2 p.m.; and Sherry Lawson and Delilah at 2:30 p.m.
"There will be art booths on the street in the Pink Zebra area, so it will pull people that way," Burch said.
Also new this year will be expanded children's activities, which will be based at Kelly Murphy Park along with other performers. The theme is Kandinsky Art for Kids, referring to artist Wassily Kandinksy, whose abstract art often featured circles. The children's area will include balloon art, a juggler, art activities, games, and other entertainment.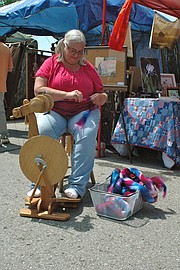 KLove radio also will broadcast live from the event.
The festival will go on rain or shine, but the Bonner Blast is prepared to reschedule in the case of inclement weather. The rain date is July 2.
For more information about the arts festival, visit bonnerspringsartsalliance.org or email BSAAevent@gmail.com.