Face to Face: Basehor pastor Duane McCracken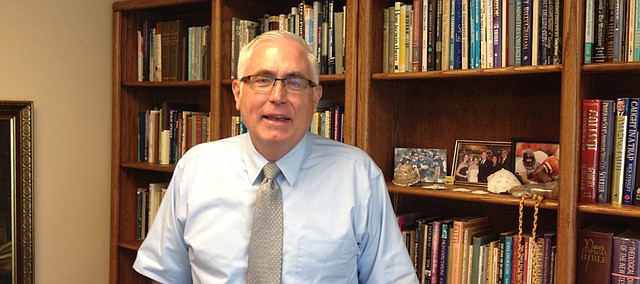 Name: Duane McCracken
Birthplace: Kansas City, Kan.
Family: Wife, Trena; two grown children, Clark (wife Lindsay) and Danae (husband Darren); five grandchildren
Occupation: 10 years as pastor at First Baptist Church of Basehor
Dream job as a child: An athlete.
But that changed in high school, when as a senior, he got his calling to work as a pastor. His basketball team was riding back from Lawrence after a loss in the first round of the state basketball tournament. The team was in turmoil, with two star players who wouldn't cooperate, which led to the loss.
"I was devastated, and I heard God say on the bus, 'There's no answers in athletics; it's a great tool, but a lousy guide,'" he said.
Hobbies: Swimming and spending time with his wife and grandchildren.
"I like to spend time with my grandchildren and have fun and teach them," he said.
Digging deeper: McCracken said two weeks after his revelation following the state basketball tournament loss, he was at a youth conference in Dallas, listening to Billy Graham speak about the call of God, which cemented McCracken's decision to enter the ministry. He completed seminary school and was ordained in 1979.
He had spent 10 years as a pastor in Fort Scott before he was called to Basehor. He said while he of course was happy to return to the Kansas City area, he feels like he is in Basehor because he is in God's will.
The First Baptist Church of Basehor has grown under his leadership, adding a full-time minister of youth and adults, a part-time music minister and children's ministry director. The church also now livestreams its 8:30 and 10:45 a.m. worship services at fbcbasehor.com.
"We'd like to invite people to either be our guest on Sunday in person or if they want to, visit first on the website and check us out," he said.