Kansas City Connection: Tour spotlights how things are growing in urban gardens, farms
Growing your own food is as old as civilization, but until recently, it's a practice that you were much more likely to find in rural areas than within city limits.
Today the Kansas City metro area is home to dozens of urban farms or smaller community gardens, and the nonprofit Cultivate Kansas City is hosting an Urban Grown Farms and Garden Tour this week that will open up 30 different urban farms and gardens for visits and educational tours.
The event kicks off with a reception at the Central Branch of the Kansas City Public Library (14 W. 10th St.) at 6 p.m. Wednesday, and will include speakers and a panel discussion starting at 6:30 p.m.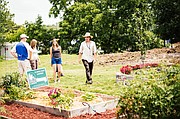 The tours themselves run from 9 a.m. to 4 p.m. Saturday, June 27, and from noon to 5 p.m. Sunday, June 28, with each site offering different activities, informational sessions, children's activities or live music. Advance tickets are $8 per person or $20 for a family ticket at CultivateKC.org.
The tour sites are spread throughout several different counties in Kansas and Missouri, ranging from URBAvore, a 13-acre organic farmstead in a city neighborhood that produces gourmet vegetables, fruits, and free-range eggs, to the Urban Farming Guys, an operation in the Lykins Neighborhood that includes a greenhouse aquaponics operation, beehives, 3,000-gallon water catchment, a 25-kilowatt solar array, over 150 raised-bed gardens and a community garden.
An interactive map of the different tour sites is available at the Cultivate KC website.
Maker Faire
The Maker Faire returns to Union Station on June 27 and 28, bringing together hundreds of inventors, computer hackers, artists, urban farmers and many others for a giant show-and-tell.
Visitors can catch a glimpse of robots, hydroponic gardens, handmade crafts, and all kinds of inventions that are either yet to hit the market or are too bizarre to ever be commercially viable.
The Maker Faire runs from 10 a.m. to 6 p.m. Saturday and 10 a.m. to 5 p.m. Sunday. Tickets cost $14 for adults and $11 for children age 3 to 12. Check out the list of speakers and get a sneak peek at this year's exhibits at makerfairekc.com.
Art of the Car Concours
Next Sunday, June 28, is the annual Art of the Car Concours on the main lawn of the Kansas City Art Institute (4415 Warwick Blvd.).
The Concours includes a display of over 200 vintage cars, trucks, motorcycles, race cars and pedal vehicles. You'll see some pretty impressive rides at this event and get the chance to talk with their owners/restorers as well.
The event begins at 10 a.m. and lasts through the day. General admission is $20, and the event benefits the KCAI Scholarship Fund. Find out more at artofthecarconcours.com.
PLUG Projects Book Fair
Next weekend is also the annual Book Fair hosted by PLUG Projects, a gallery and art space in the West Bottoms at 1613 Gennessee St.
The book fair brings together hundreds of books, zines and handmade publications from a variety of small and independent publishers.
The book fair runs from 10 a.m. to 5 p.m. on Friday and Saturday.
Crawfish Fest
In the 1990s, before the Sprint Center, Grinders or the renovated Midland Theatre, one of the top summer music events was the Crawfish Fest at the City Market.
The Cajun-themed soul party returns this Friday, with live music from the MGDs and the Bon Ton Soul Accordion Band, and a menu that includes hot boiled crawfish, red beans and rice, seafood gumbo, jambalaya, and beer from the Abita Brewery of New Orleans.
Tickets are $15 (not including food and drink) and can be purchased online. Gates open at 6 p.m. and the music starts at 7 p.m.
The Hussy
Fans of up-tempo garage rock should check out Madison, Wis., duo The Hussy at 9:30 p.m. Friday at the Record Bar in Westport.
They're a bit like the White Stripes, except with a surf rock edge. Local outfits The Wet Ones and Witch Jail open this 18-and-over show, which costs $5.
— Lucas Wetzel is a writer and editor from Kansas City, Mo. Know of an upcoming event in Kansas City you'd like to see featured in Kansas City Connection? Email us about it at kcconnection@ljworld.com.