Basehor car enthusiast to participate in 'Art of the Car'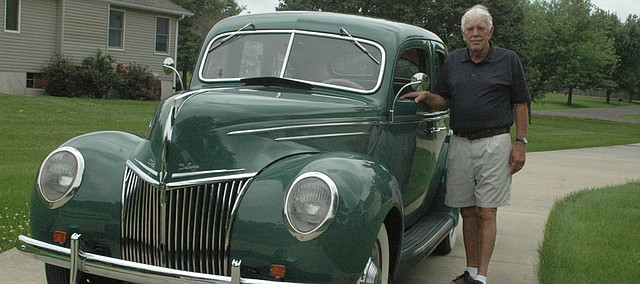 Earl Lohuis had several things in mind when he bought his 1939 Ford Deluxe Sedan.
One, to buy a car that was more comfortable for his wife, Patsy, than his Model A. The Basehor resident also decided he wanted something with a very specific tie to his youth.
"I guess I grew up with a lot of these cars; I'm 76 years old," he said. "This car, the primary reason I bought it is the car and I are the same age."
This weekend, you can find Lohuis and his Ford Deluxe mixed in with more than 200 "historically significant" cars at the Ninth Annual Art of the Car Concours, 10 a.m. to 4 p.m. Sunday at the Kansas City Art Institute. Lohuis said while his car isn't particularly rare, it is unique in it's own way.
"There's enough of them around, but a lot of them have been converted to hot rods," he said.
Which is another reason why Lohuis decided to buy the car about seven years ago.
"I like the original, old antique cars that are, for the most part, unaltered," he said.
Lohuis bought his first antique car in 1982. He has bought and sold a few other classic and antique cars since then, including a couple of Corvettes and most recently, his Model A, which he and his wife would drive on tours with the local Ford clubs.
But the Model A became uncomfortable when his wife developed some health issues, so Lohuis found the Ford Deluxe.
"It would hardly make it home when I got it," he said.
Lohuis has done a lot of engine work to get the car running, and his son, a manager at a large body shop, helped get the exterior in shape.
They painted it Vermont Green, an original Ford color, keeping with Lohuis's preference for unaltered antiques, and made sure all the knobs and buttons were in working order.
"Everything on this car works — everything," Lohuis said.
In 1939, Ford made two models, the Standard and the Deluxe, and the Deluxe had a completely different hood, fenders and grill. It was the last year that Ford made cars with a swingout windshield, the last year to have the gear shift on the floor, and the first year that the car had hydraulic brakes. Its 221 cubic-inch engine produced 85 horsepower.
Lohuis has traced the car's history back to New Jersey — it then was in Florida and finally California before coming to Kansas. Since getting the car in working order, it is still fairly well traveled, if only regionally; Lohuis said he has continued to go on touring trips with the antique Ford clubs, as he did with his Model A.
"The car has been to Falls City, Nebraska, it's been to Lake of the Ozarks, all over northeast Kansas and to Wichita and Pittsburg," he said. "It's dependable; you can get in the car and drive it for long distances. You've got to drive it right; it's an old car, so you can't run it 70 miles an hour."
He has entered it into a few area car shows, and this will be his third time at the Art of the Car, something he is somewhat proud of because the show is rather particular in choosing its participants.
"The Art of the Car, for this area, is probably the best car show," he said. "It will attract only the very best cars, and they're mainly all original cars."
Admission to the Sunday Concours is $20 at the gate or in advance at artofthecarconcours.com. Children age 16 and younger are free. Proceeds benefit the KCAI scholarship fund.