Kansas City Connection: Fourth of July fireworks, folk art at the Nelson
The Fourth of July is a magical time in America, and especially in Kansas City.
In the backyards of the suburbs, kids play with snap pops, sparklers or glowing snakes. Streets in the Westside neighborhood and Wyandotte County become de facto block parties, as families and neighbors gather to light grills and long strings of Lady Crackers. And, of course, there are many large public fireworks displays throughout the city.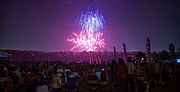 The biggest public display of fireworks can be found at Riverfest, a Fourth of July festival at Berkley Riverfront Park just east of the City Market that lasts from 4 p.m. until the smoke clears around 11 p.m. Riverfest also features several live cover bands, children's activities, food trucks and drink vendors.
Shuttles are available for those who wish to park in the City Market. Admission is free from 4 to 5 p.m. and is only $5 per person after that. The fireworks display begins at 10 p.m. For more details and parking information, visit kcriverfest.com.
In nearby Parkville, Mo., just a few miles northwest of downtown Kansas City, the carnival rides return from July 1-4, with Saturday's events including a parade at 10 a.m. through downtown Parkville, a Navy brass band at 1 p.m., and a fireworks display by the river at English Landing Park at 9:45 p.m. Food vendors will also be set up in the park throughout the weekend.
On July 3, Powell Gardens will host its annual Booms & Blooms Festival, featuring garden tours in the daytime, a pops concert by the Lee's Summit Symphony featuring patriotic music, and a fireworks display around 9:30 p.m. Food, homemade ice cream and beer and wine will be available for purchase. Admission is $12 for adults, $10 for seniors and $5 for children ages 5 through 12. If it rains, the makeup date will be July 5.
Art exhibits
Anyone seeking a respite from all the gunpowder should check out the final week of a fascinating exhibit at the Nelson-Atkins Museum of Art featuring works made by self-taught or minimally trained American artists from 1800 to 1925.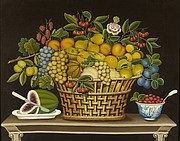 "A Shared Legacy: Folk Art in America" brings together 63 different works of art ranging from unconventional sculptures, painted furniture, paintings and even a cow weather vane.
Tickets to the exhibit cost $12 and also include admission to "Ferran Adria: Notes on Creativity," an exhibit that compiles the musings and notes of a master chef in a colorful, whimsical meditation on the creative process.
"A Shared Legacy" runs through July 5, and "Notes on Creativity" runs through Aug. 2. For more information, visit nelson-atkins.org.
At the nearby Kemper Museum of Contemporary Art, "Earth & Sky: Works on Paper from the Permanent Collection" collects various works of photography and mixed media that present different images of the earth's surface or the sky's illumination.
It's a soothing, often abstract presentation of work that can be viewed for free during the museum's hours, which are 10 a.m. to 4 p.m. Tuesday through Thursday, 10 a.m. to 9 p.m. Friday and Saturday, and 11 a.m. to 5 p.m. Sunday. For more details about other this and exhibitions, visit kemperart.org.
'Pippin'
From Tuesday through Sunday, the musical "Pippin" will be performed at Starlight Theatre each night at 8 p.m.
With songs written by the composer of "Wicked," the musical tells the story of Pippin, a young prince amid a mysterious performance troupe.
Tickets start as low as $12 and can be purchased at kcstarlight.com.
— Lucas Wetzel is a writer and editor from Kansas City, Mo. Know of an upcoming event in Kansas City you'd like to see featured in Kansas City Connection? Email us about it at kcconnection@ljworld.com.