Artist hopes Bonner's 'Marble Crazy' event broadens horizons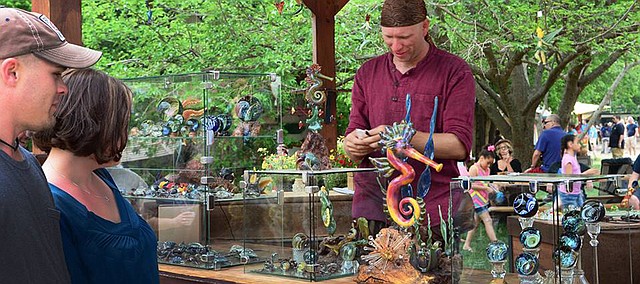 Raven Copeland has been making art with glass for almost as long as Moon Marble Co. has been organizing its annual Marble Crazy event, a celebration of glass artists.
And this weekend, Copeland will be a first-time vendor at the 15th annual event — actually in its 16th year, because the second celebration of marble-making was named the "first annual" Marble Crazy. After years of selling his work as a vendor at Renaissance Festivals, Copeland said he was ready to broaden his exposure as a glass artist and thought Marble Crazy was the perfect place to start.
"I've heard only good things about it and am super excited to get up there," he said.
Already a ceramics artist, the soon-to-be Houston-based artist said he met some glass workers in the art department while attending the University of New Mexico.
"I knew right away that I wanted to play with glass," he said. "I bought a torch and some glass in April 2000, and set it up on my Mom's back porch. With a couple books and the Internet to help, my journey in glass began."
Copeland has spent the last 15 years with the medium, which has gone from "playing with glass" to his preferred medium.
"I've always loved marbles, and they are my main focus," he said. "I do make tons of different sculpture, figurines, shot glasses and jars, but I spend probably 80 percent of my time messing around with the spheres."
In 2008, he began traveling to Renaissance Festivals across the country with his work and now travels 10 months out of the year as a RenFest vendor, with booths at five different fairs, each lasting eight weekends.
"When I found the Renaissance Faires, I knew it was the place for me to make glass into a career," he said.
While he grew up in Las Cruces, N.M., he currently is in the process of building a studio just north of Houston.
And while he has some family who live in Kansas, he said he discovered Marble Crazy not due to his relatives but thanks to Melinda Sells, who recently retired from Moon Marble and spent many years working with the Kansas City Renaissance Festival. A few years ago, she attended the Renaissance Festival in Colorado, where she has family, and ran into Copeland.
"She saw my work and was super sweet, complimentary and motivating," Copeland said.
Copeland said because his only experience showing his pieces has been through Renaissance Festivals, it took some time before he decided to seek out a spot at Marble Crazy.
"The popularity of marbles in the last four or five years, along with the resurgence and success of a few other marble shows has motivated me to try it out," Copeland said. "Melinda is definitely the reason I chose Marble Crazy."
Bruce Breslow, co-owner of Moon Marble, said this year's event would feature more hard-glass workers like Copeland. The event also will feature an artist with Moon Marble roots: Allison Borgschulte, who now lives in Nebraska but worked at "The Moon" for several years and has continued to produce the famous "Marble Crazy" posters and other artwork for the shop.
Marble Crazy will begin at noon Friday and run until 9 p.m., and will continue from 10 a.m. to 5 p.m. Saturday, with booths for artists from around the country, glass working demonstrations and the "marble machine." For more information, visit marblecrazy.com.