Face to Face: Basehor-Linwood High coach Ross Schwisow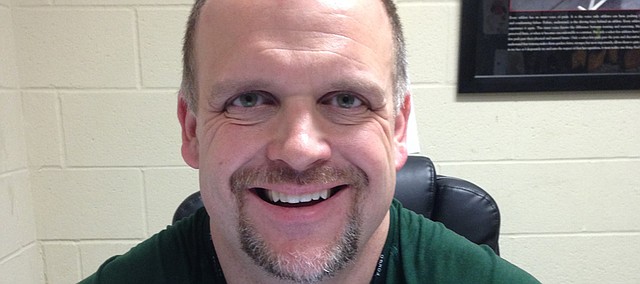 Name: Ross Schwisow
Birthplace: Emporia
Family: wife, Dana; children Alaina, 6, Ty, 4, and Mara, 7 months.
Occupation: Basehor-Linwood High School Strength & Conditioning coach
Dream job as a child: Train conductor.
But Schwisow said this was fairly short-lived.
"As I got older and got into elementary school, deep down I knew I wanted to be a teacher," he said.
Still, Schwisow first got a degree in business finance before going back to school to get his teaching certificate. He spent his first four years in education as a high school business teacher.
Hobbies: Schwisow has spent some time working with police departments, training officers on strength conditioning as it relates to police tactics. More recently, he says he has become a barbecue enthusiast. He bought a smoker and has been experimenting with smoking different meats and vegetables.
"I am trying to become a novice of barbecue smoking," he said.
Digging deeper: Schwisow and his strength conditioning program are a big part of BLHS's multiple girls and boys state championships in powerlifting.
He said when he realized how much he enjoyed strength conditioning, he went back to school to earn a masters degree and earned three national certifications in strength conditioning.
He came to BLHS nine years ago, making it one of only a few high schools in the midwest that run a year-round strength conditioning program. He said he sees about 350 youngsters a week in the program.
"Now that its in the ninth year, we're starting to see the fruits of our work; kids who are now 24, 25, and still living a healthy lifestyle," he said.
The students get hooked once they sign up for the first year of the program, Schwisow said, and it teaches them a lesson they can carry into their lives beyond high school.
"If they're able to commit to that, they'll be able to commit to other things to keep them healthy," he said. "It's enjoyable to see them take that into their own lives, and that's what we stress and hope for."