Basehor-Linwood boys clinch spot at state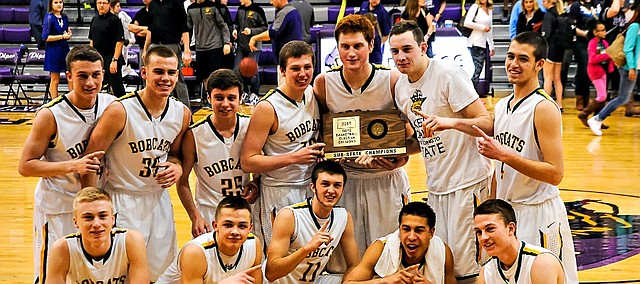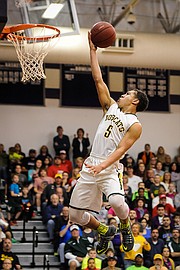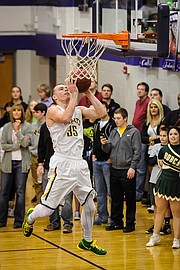 Kansas City, Kan. — The Basehor-Linwood boys earned a repeat trip to Salina thanks to a suffocating defensive effort in its Class 4A-I sub-state final against Piper, blowing the game open early in the fourth quarter and cruising to a 71-46 victory on Saturday.
The Bobcats (22-0) will open the state tournament a 3 p.m. on Wednesday against Wellington (12-10). The Bobcats qualified for state for the third time in four seasons and fourth time in seven seasons. They will be going after their third state title since 2009.
To get to Salina, Basehor-Linwood first had to take care of a Piper team that had given the Bobcats tough games in two previous meetings this season. For the third meeting, however, the Bobcats never trailed in the game and never had less than a double-digit lead after the start of the second quarter.
"Our energy was just spectacular," Basehor-Linwood coach Mike McBride said. "It's hard to score on that kind of defensive intensity."
After scoring only 20 points in the first half, Piper tried to rally in the third quarter behind a barrage of 3-pointers. Four 3-pointers in a 4:40 span pulled the Pirates to within 46-36 with a minute left in the third quarter, but following an offensive foul on the Pirates and a technical on Piper coach Morris Letcher, the Bobcats took off on a 16-0 run that put the game out of reach.
While the Bobcats held Piper scoreless for more than four minutes, post Carson Fliger found room inside, scoring 13 of his game-high 19 points in first four minutes of the fourth quarter. His last basket and free throw with 4:19 remaining gave Basehor-Linwood a 65-38 lead.
"We just finally wore them down enough to get the ball to him," McBride said. "They were doing a good job keeping us out on the perimeter and trying to double team and playing physical inside."
Piper committed 32 fouls in the game, and the Bobcats made them pay, making almost twice as many free throws (29) as the Pirates attempted (15).
McBride said that the team found out a week earlier against Mill Valley how good its man-to-man defense could be. On Saturday, it was Piper's turn to find out. The Bobcats made life miserable for the Pirates all night, harassing dribblers and blocking or altering shots consistently.
"Obviously, we work a lot on it all season long," McBride said. "The great thing is they had their arms out, they're cutting people off, and it's tough. Our help and recovery is pretty awesome."
Pat Muldoon, the team's leading scorer all season, only had six points against Piper, but led the way in shutting down Vincent Eskina, who has posted big games against the Bobcats in the past. Eskina scored three of his team-high 13 points in the second half as the Bobcats pulled away.
Jarhon McPherson picked up things on offense for the Bobcats, scoring 14 of his 18 points in the first half as his team took a 35-20 halftime lead. McBride praised the junior point guard's growth in knowing when to get his teammates involved and also when to work his way to the basket for layups.
"He's just so big and strong with all that speed," McBride said. "He just keeps getting better and better every game."
Jack Dale added 12 points for the Bobcats. Brock Gilliam and Nick Fisher each added six points.
The Bobcats struggled last year in Salina in a first-round loss to El Dorado and have used that loss as motivation.
"We had El Dorado in our mind all year this year," McBride said. "I don't think this group wanted it to end tonight. They were going to have to play really, really hard for 32 minutes to beat us."