Bobcats take down Wellington in state opener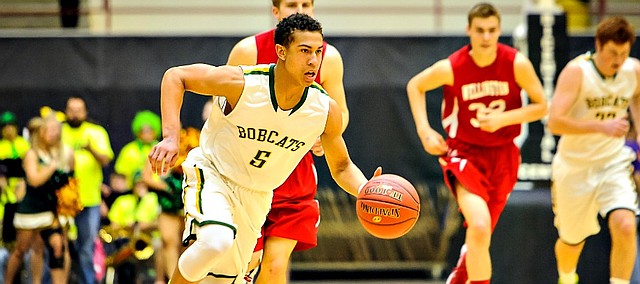 The Basehor-Linwood boys basketball team had little trouble in the first round of the KSHSAA Class 4A-I state tournament on Wednesday afternoon, ousting Wellington 65-40 at the Bicentennial Center in Salina.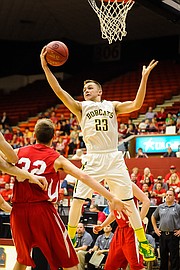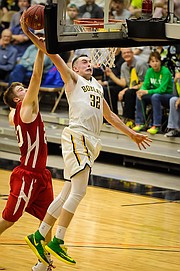 The Bobcats (23-0) were led by Pat Muldoon, Carson Fliger and Jack Dale, who scored 15, 14 and 12 points, respectively. Basehor-Linwood shot 52.9 percent from the field, compared to just 34.9 percent for Wellingon (12-11).
"We played hard the entire game, which is obviously what you want," Basehor-Linwood coach Mike McBride said. "We started out a little timid — demons from losing in the first round last year, or whatever it was — but this year we had the experience to fight through it and get on track. We started playing well as the game went on."
The Bobcats forced the Crusaders into 28 turnovers and scored 24 points off of those turnovers. Point guard Jahron McPherson recorded five of the Bobcats' 14 steals.
"That's just our team speed," McBride said. "Our guards are fast, and they read the floor really well. When you've got six or seven guys that also jump passing lanes when they get a trap, that's what it came down to."
Basehor-Linwood ended the first quarter with a 20-14 lead and stretched its advantage to 12 points by halftime at 34-22. After a fairly even third quarter, the Bobcats pulled away for good by winning the final period 19-8.
Basehor-Linwood will take on Ottawa (21-2) at 4:45 p.m. on Friday. The Cyclones defeated Fort Scott 53-44 in the quarterfinals on Wednesday. The Bobcats defeated Ottawa earlier this season, taking a 73-56 victory back on Jan. 22.
"We beat them earlier in the year, so they've got a little bit of 'We've got nothing to lose' attitude going on," McBride said. "They don't have quite the inside game that we do. They're not quite as balanced as we are, but at the same time, if they get hot, they can definitely all shoot it."
---
Jon Poorman is the sports editor at The Sentinel. Follow him on Twitter at @JonPoorman for all of the latest community sports news.