Basehor-Linwood falls short of perfect season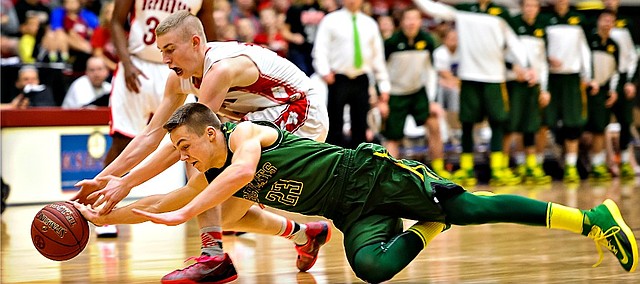 Salina — Basehor-Linwood's pursuit of perfection came up one frustrating game short as the Bobcats lost to defending champion McPherson 74-60 in the Class 4A-I basketball state championship on Saturday in Salina.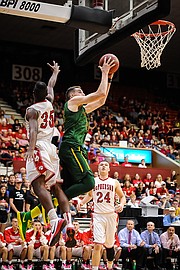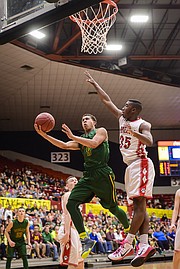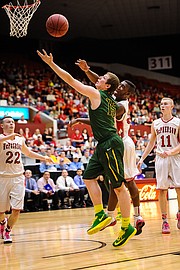 Both teams entered the game undefeated, and both teams had stretches that showed why they ran through their regular seasons unscathed. But in the end, Basehor-Linwood (24-1) couldn't overcome foul trouble that dogged the Bobcats the entire game.
"I told (the players after the game) life isn't fair," Basehor-Linwood coach Mike McBride said. "McPherson had a game plan of going at our bigs and getting them in foul trouble and jumping into them and flopping. And they called the fouls even though we were trying to run away."
The Bobcats power trio of Pat Muldoon, Carson Fliger and Jahron McPherson entered the championship game averaging almost 42 points combined in the postseason. In the championship game, they spent too much time on the bench, with Muldoon playing 17 minutes, Fliger 11 and McPherson 20.
As it had many times throughout the season, the Bobcats reserves came to the rescue. A 10-point halftime deficit became 34-21 with seven minutes left in the third quarter before the Bobcats rallied. Nick Fisher's basket capped a 15-3 run that closed the gap to 37-36 with 2:46 remaining in the third quarter, despite having four starters out of the game.
"That's how good we are," McBride said. "Those guys got us back into the game."
The Bullpups (25-0) made everything tough for the Bobcats, committing just four second-half turnovers and shooting 60 percent from the field for the game. They
stretched a 42-40 lead after three quarters to 49-42 when McBride started to put his starters with four fouls back in the game.
Fliger fouled out with 4:32 remaining, and Muldoon was disqualified 30 seconds later. The Bullpups pushed the lead to double figures and took complete control from that point on. They made 23 of 30 free throws in the second half and 30 of 41 for the game.
In the first half, the Bullpups took advantage of several Basehor-Linwood miscues, scoring 14 of their 29 first-half points directly off Bobcat turnovers.
"We played a little timid in the first half, and we missed some layups," McBride said.
McPherson led the Bobcats with 22 points, including 13 in the fourth quarter as Basehor-Linwood tried to rally. Senior Joe Gorman had nine points, and fellow seniors Fliger and Muldoon scored eight and four points, respectively, in their final games as Bobcats. All three seniors fouled out.
"That's incredibly frustrating," McBride said. "McPherson's a great team. I'm not taking anything away from them. But it would have been nice if my kids could have played tonight."
Payton Stephens led the Bullpups with 24 points, and Drew Pyle and Kyle Kinnamon each added 12 points.
With the loss, Basehor-Linwood fell short of winning its third state title. It was the third time in four seasons and fourth time in seven seasons under McBride that the Bobcats had made it to Salina.
The Bullpups, making their 23rd appearance in a championship game, won their 13th state title. Coach Kurt Kinnamon has coached McPherson to six of those titles.