State creates quarantine zone for bird flu in rural Leavenworth, Wyandotte counties
In response to the confirmed positive case of Highly Pathogenic Avian Influenza in Leavenworth County, the Kansas Department of Agriculture (KDA) has established a quarantine zone in Leavenworth and Wyandotte counties to respond quickly and decisively to eradicate the outbreak of HPAI.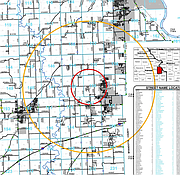 Samples collected from a backyard poultry flock containing both chickens and ducks in Leavenworth County were found to be positive for HPAI, a rapidly spreading viral disease that can infect many types of birds. The flock was depopulated Saturday morning by USDA officials. KDA is seeking assistance from backyard poultry owners in Leavenworth County. Those who currently own poultry have been asked to self-report their backyard flock at HPAI@KDA.KS.GOV or toll free at (844) 255-7794.
While the state says the cities of Bonner Springs, Lansing, Leavenworth and the western half of Tonganoxie are not impacted by the control area, the 10-kilometer control zone is bordered by the following roads:
• Woodend Road east to 142nd Street
• Northeast along a line to 118th Street and Interstate 70 intersection
• North to Gilman Road
• West to 219th Street
• South to Tonganoxie city limits
• Follow southeast along Tonganoxie Creek to Woodend Road
A map of the quarantine area shows the center of the quarantine to be on Leavenworth Road between 163rd and 171st Streets, just west of Basehor city limits.
The transportation of all HPAI susceptible livestock, including live poultry and poultry products (including eggs), into or out of the designated control zone within Leavenworth and Wyandotte counties in Kansas is prohibited unless authorized by an official permit. Poultry and poultry products, including eggs, within the control zone shall not be transported without first receiving an official permit from the Kansas Department of Agriculture.
If you have questions regarding the quarantine area or to see a listing of symptoms of infected birds, visit agriculture.ks.gov/avianinfluenza to see a map of the quarantined area.
Kansas Animal Health Commissioner Dr. Bill Brown encourages all poultry owners to closely monitor their flocks and contact their local veterinarian immediately if birds appear infected.
Farmers and ranchers can protect their flocks with good biosecurity practices including:
• Isolate new animals
• Move all livestock away from boundaries of your property
• Clean clothing and boots should be worn when contact with livestock is expected.
• Thoroughly clean and disinfect equipment and animal areas
• Monitor your animals for signs of the disease
• Abide by all movement restrictions.