Basehor-Linwood students cover state tourney run with help from community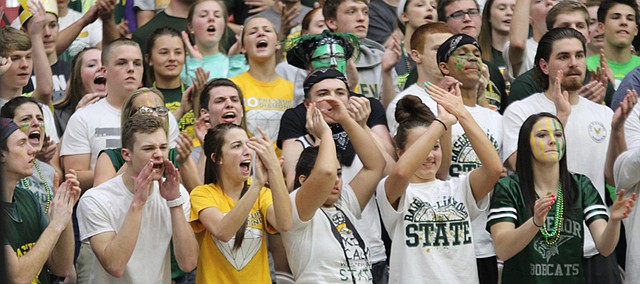 As the community rallied to support the Basehor-Linwood High School boys basketball team's trip to the 4A state championship, they even helped out the BLHS student newspaper.
The students who put together The Express set out to attract more readers from the community by having community members supporting the team in Salina share their perspectives of each game leading up to the state title. And statistics for the newspaper's website show that the idea worked, with hundreds of hits.
"We had way more response to that than we've had in the past," journalism teacher Kristen Loney said. "I think that was fun for the people who were writing for it to hear that people were going to read what they were doing."
Loney came up with the idea March 9 while trying to brainstorm different ways of covering the team's run for the state title.
Loney said she said statistics and play-by-plays from the games would get covered pretty well by other media outlets like The Chieftain, and she wanted to provide a different perspective.
"If we can provide a different voice, then we might gain a little more of an audience," Loney said.
On Loney's 12-member staff, they already had a cheerleader and a band member who could contribute. But they continued to add to that as the week went by. They got player Pat Muldoon, fans Zach Ferguson, Casey Jones and Jesse Smallwood, parent Jim Sherley, and even team manager Haley Langstraat.
"She had a fun perspective because she gets to see what happens behind closed doors and at practice," Loney said.
They even included Coach Mike McBride's wife, Shelby McBride, at the coach's suggestion.
"I think it's cool to get her perspective, too, because that team is kind of part of her family," Loney said.
The final story can be found at blhsnews.com under "State Championship Game: From the Eyes of the Participants."
Smallwood wrote about his reactions to the action on the floor during the first game against Wellington.
"At the end of the game we did our undefeated chant, and this sent chills down our spines because it is such a rare occurrence," he wrote.
Langstraat was among those who could share her excitement of returning to the state tournament after losing in the first round of last year's state tournament.
"As I stood on the court stepping out when my name was called and then giving the boys their pre-game high-fives I thought to myself, 'I don't want this to end,'" Langstraat wrote.
Shelby McBride wrote about watching the team come together throughout the season.
"When I saw this team stand in their line awaiting their introductions, I saw something that everyone in Basehor should be proud of," Shelby McBride wrote. "I saw a group of brothers standing in solidarity, ready to lay it on the line for each other to achieve their common goal."
Muldoon also wrote about the team's dynamic.
"It's an amazing feeling to get the whole team involved in the game, when everyone starts working together and moving the ball we really opened up the floor," he wrote.