Face to Face: Moon Marble's Ben Breslow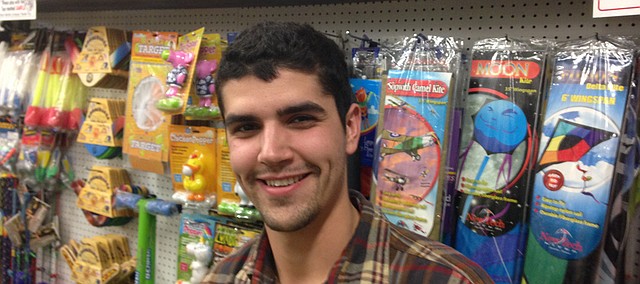 Name: Ben Breslow
Birthplace: Kansas City, Mo.
Family: girlfriend, Karly Mayfield
Occupation: part-time employee at his father's business, Moon Marble Co. in Bonner Springs, where he usually helps create wooden swords and shields for the store's Renaissance Festival booth; and freelance artist
Dream job as a child: Zookeeper/explorer.
Though not ultimately his chosen field, he says he still loves reading about animals.
"I'm just really fascinated with the natural world and animals," he says. "I just kind of love learning new things, and what better place to look than nature."
Hobbies: Breslow plays saxophone and harmonica, the latter since he was 5 years old. He also is a self-described coffee connoisseur.
"I like to brew coffees in different ways," he said. "I went to design schools in Savannah, Ga., and that's where I kind of fell in love with it."
Digging deeper: Breslow recently became a freelance artist with the National Toy and Miniature Museum in Kansas City, Mo., which is currently closed for renovations. He is helping the museum build a sculpture called the "Toytisserie," which will be unveiled at the museum's reopening Aug. 1.
"They've collected donated toys from all over Kansas City, even broken ones," Breslow explained.
That's actually how he got involved — Moon Marble and the toy museum already have a good working relationship, and Breslow happened to be in when museum representatives came to "The Moon" looking for broken toys.
"I was interested in the project, so I sent the artist an email with my resume," he said.
Thus he was soon named the assistant artist for the project.