Bonner-area man named state 'king' of weight loss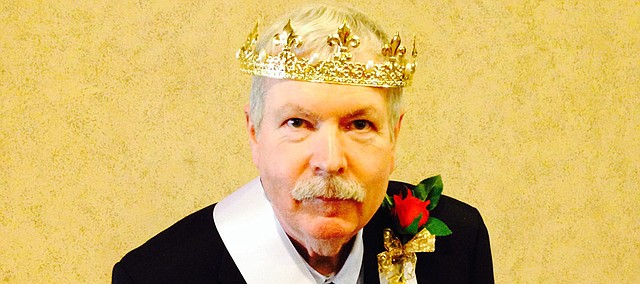 After Jim Erickson was diagnosed with early onset Parkinson's, his doctor had one major instruction for him: Lose weight.
"It didn't click at first, but then (the doctor) kept telling him 'You've got to lose weight,'" Reba Erickson, Jim's wife, said. "So Jim really started cutting calories, and we exercise, as much as Jim can do."
The diligence, with the help of the Take Off Pounds Sensibly or TOPS group in Bonner Springs, paid off for the Ericksons, who live just west of Bonner Springs in Leavenworth County. Over the weekend, Jim Erickson was crowned the TOPS King of Kansas for losing 78 pounds.
"Finally his doctor's happy with him," Reba Erickson said. "Even the first 40 pounds we got off of him, the doctor said 'You've still got a ways to go.' But finally, he is OK."
The Ericksons first became involved with TOPS, a nonprofit weight loss and support organization, 21 years ago, when Reba Erickson's doctor told her she had to lose 30 pounds in order to help reduce her blood pressure. Her sister, who was already involved with TOPS, invited her to come to a meeting.
"For a long time it was just me, and then Jim started going," said Reba Erickson, who lost her necessary weight in her first year and has kept it off ever since. "He went for a while, lost weight, and then he got real busy and quit."
Jim began attending TOPS meetings again in about 2005, but he has made his major weight-loss progress in the last two years, losing 78 pounds to meet his goal of weight of 213 pounds.
Being named the "King of Kansas" means Erickson lost more weight than any other male member of TOPS in Kansas, and he was crowned at the TOPS State Recognition Day celebration Friday and Saturday in Wichita.
Reba Erickson said she and her husband developed a "family" of sorts at both the Bonner Springs YMCA and the TOPS group, helping them to meet their goals.
"It's a support system primarily," Reba Erickson said of TOPS. "… They have so much to offer with the online resources they have, and then we get a magazine every month that has a ton of stuff in it, too."
Jim Erickson agreed, though he was happy to sit back and let Reba do all the talking for him.
"It's a good thing Reba's here to answer all your questions," he joked.
TOPS does a good job of holding members accountable for their weight loss, which is what Reba Erickson says has kept the weight off for herself and her husband.
"Just knowing we're going to go in there and weigh in once a week," she said.
The Ericksons say the benefit of TOPS is the low cost, just a $32 annual fee and a $2 monthly club fee. Bonner Springs TOPS meets from 4:30 to 5:30 p.m. every Thursday at Fellowship West, 303 S. Bluegrass Drive.
Time spent at the Bonner Springs Family YMCA also was a big part of Jim's weight loss.
"It has made such a big difference for Jim," Reba Erickson said. "His mobility, getting in and out of the car … Jim is an inspiration to people, because they see him come into the Y, usually with his walker, and I think they look at him and think well, if he can do it, I can do it."