Kansas City Connection: Eating recommendations for moms (and everyone else)
I'd like to wish a happy Mother's Day to everyone, especially my own mom, Jane, and my wife, Jennifer. As a tribute of sorts I thought I'd mention a couple of their favorite places to go out to eat — places I'd definitely recommend to anyone looking to take their own mom out of a bite, on Mother's Day or any day.
The first is Chez Elle, a creperie and coffee house in the Westside that's situated in the historic Summit theater building at 1713 Summit St. Chez Elle serves a wide variety of sweet and savory crepes as well as pastries and a full-service coffee bar. The creamy, flavorful lobster bisque is one of the most popular items, and for good reason.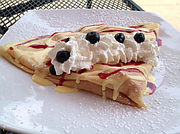 Chez Elle is owned by Ellen Tarkas, whose time in France inspired the European menu and setting, which is at once bustling and relaxed. Chez Elle is open from 8 a.m. to 3 p.m. Sunday, 11 a.m. to 2 p.m. Monday, and from 7:30 a.m. to 3 p.m. Tuesday through Thursday.
On Fridays and Saturdays, the creperie is open from 7 a.m. to 9 p.m., making it a great spot to stop for a coffee or glass of wine on the patio before checking out an event or concert downtown. Visit chezellekc.com for a full menu.
Another favorite spot of Jane's and Jennifer's is You Say Tomato, a cafe, grocery and deli at 2801 Holmes that serves made-from-scratch breakfast and lunch using fresh, local ingredients.
The decor is funky and eclectic, with tables and chairs in a variety of shapes and colors, and coffee served in mugs that look like something from your own cupboard. It's a little like going to a friend's place for breakfast, if your friend's place were a brick building on the corner with rows of groceries and dry goods.
Breakfast specialties include croissants, baked French toast, parfait, granola and corned beef hash, as well as fresh-baked muffins and cinnamon rolls. Lunch items include bierocks, grilled cheese, quiche, made-to-order sandwiches, a delicious BLT, and daily specials, to name a few.
Breakfast is served Monday through Friday from 7 a.m. to 11 a.m, and lunch is served until 3 p.m. Weekend brunch is served on Saturday and Sunday from 8 a.m. to 2 p.m.
Pryde's Old Westport
If you're in the market for kitchenware, check out Pryde's Old Westport, a kitchen and housewares store that has been referred to as a "hardware store for cooks."
Pryde's has been a family-owned business since it opened in 1968, and it's a great place to pick up anything from copper Moscow mule mugs to stainless steel butter slicers.
On Fridays and Saturday's, Pryde's is also home to The Upper Crust bakery counter, which sells fresh pies and baked items. Pryde's is open from 10 a.m. Monday through Saturday. Find more information online at prydeskitchen.com.
Concerts
Concerts worth checking out this week include a gallery show by Virginia fingerstyle guitar wizard Daniel Bachman, who will perform a set this Wednesday evening along with Belgian artist Ignatz and Kansas City guitarist Mike Stover. The show will be 8 p.m. Wednesday at La Esquina, 1000 W. 25th St. Tickets are $8 at the door.
On Friday at 8 p.m., Beck will perform with Willie Nelson as part of Starlight Theatre's summer concert series. Tickets for this rare event cost $45 and up at kcstarlight.com.
The following Monday, May 18, Austin, Texas, rockers Spoon will stop through the Arvest Bank Theatre at the Midland for an 8 p.m. show with Sweet Spirit.
Tickets online are just under $35 including fees. The band's is touring in support of its 2014 album "They Want My Soul," which ranks right up there with other standout albums in their catalog. Should be a fun time.
— Lucas Wetzel is a writer and editor from Kansas City, Mo. Know of an upcoming event in Kansas City you'd like to see featured in Kansas City Connection? Email us about it at kcconnection@ljworld.com.