Basehor-Linwood star Muldoon signs with
EIU
Basehor-Linwood basketball standout Pat Muldoon inked his National Letter of Intent on Tuesday morning, making his commitment to continue his playing career at Eastern Illinois University in Charleston.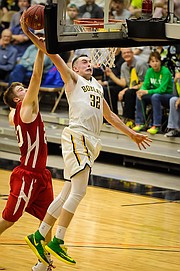 Muldoon, a 6-foot-7 forward, was a first team all-state performer in his senior season, helping the Bobcats reach the Class 4A-I title game. Basehor-Linwood finished as the state runner-up with a 24-1 record.
Muldoon was also chosen as Basehor-Linwood's Male Senior Athlete of the Year.
Eastern Illinois competes at the Division I level in the Ohio Valley Conference and finished last season with an 18-15 record.
---
Jon Poorman is the sports editor at The Sentinel. Follow him on Twitter at @JonPoorman for all of the latest community sports news.