Ray Cox remembered as truly dedicated to his community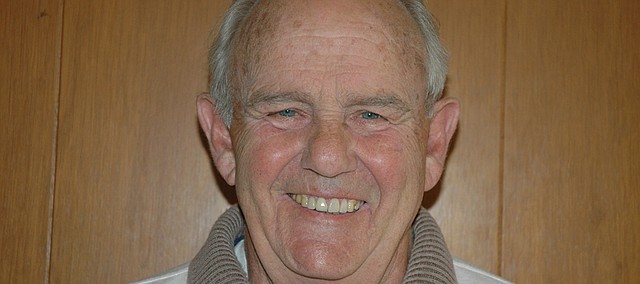 Not even cancer could keep Ray Cox from fulfilling his service to the community.
Even in the last few months, when his fight against the disease became the hardest, Cox attended every USD 204 Board of Education meeting possible.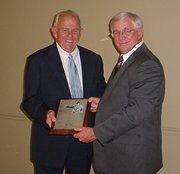 "He'd save up his energy for the school board meetings," said Dave Pierce, fellow board member and friend of Cox's for 40 years. "He'd bypass anything else so he could make the school board meetings, because he knew how important it was. That says a lot about Ray's character."
Cox, 81, died Sunday after a year-long battle with cancer; his memorial services are set for Friday at 7 p.m. at Bonner Springs United Methodist Church, with a visitation beginning at 4 p.m. Cox left his mark on the Bonner Springs community and far beyond, from his time a s a teacher, coach and school administrator, to his financial investment business, to his 14-year service as a state representative and, most recently, a school board member.
"He was a wonderful dad to me," daughter Robin Neal said. "He was a caring, hard-working, honest man full of integrity and pride, and worked daily to pass his values on to me. He deeply loved both his family and his community, so each will miss him dearly, because his absence leaves behind a large void."
Cox was born in Topeka and grew up in Lawrence. He served in the Army after graduating high school in 1951, stationed in Italy and Austria. He then attended Kansas University, receiving a bachelors and masters degree in education.
He first taught and coached football at Wyandotte High School but moved to Bonner Springs in 1963 to serve as head high school football coach. He taught physical education, sociology, psychology, civics, American history, health and driver's education as a teacher, eventually becoming a vice principal at Bonner Springs High School.
Chris Wood, retired BSHS English teacher, said Cox gave her advice early on that changed the way she interacted with students.
"When I was a young, new, lost teacher almost 50 years ago, Ray Cox cared enough to help me understand the depths of the profession and the needs of the young people," Wood said. "This same caring he shared with the community in so many ways. Thank you, Ray, for decade after decade of service to make this a better world."
When Cox left education in 1973, the BSHS Totem Pole yearbook was dedicated to him. It was then that he entered the financial world, starting his investment consulting company that continues today in Bonner Springs under the ownership of his wife and daughter as Cox & Neal, LLC.
He was elected to the 39th Kansas House District from 1992-2006, serving two years on the Economic Development Committee, nine years as Chairman of the Financial Institutions Committee, 13 years on the Insurance Committee and all 14 years on the State and Federal Affairs Committee, as well as several years on the Joint Committee on Investments and Pensions and as a member of the State Treasurer Advisory Committee on 529 Plans.
While a legislator, he was awarded the Kansas Credit Union Man of the Year, helped establish the Kansas SIDS Network, and wrote and helped pass an Identity Theft Bill.
When he left the Legislature, Cox told The Chieftain that people seemed to know that he worked for them and not for his political party.
Cox said he'd often been told, "many people know you're consistent, Ray, we appreciate that you look at issues and have never been afraid to cross party lines."
Lisa Benlon, a former Shawnee legislator who served with Cox for about a dozen years, concurred with Cox's view.
"Ray was the kind of guy that I felt always put his constituents above himself, really cared about the people he served, cared about the process of good government," she said. "He was wonderful about reaching across the aisle to the other party ... He was a centrist; he truly believed in moderation. What a gentleman, I mean a class-act gentleman, which I really feel is lacking in Topeka at this point."
When he decided not to run for re-election to his legislative seat, Cox also took a brave political stance, first supporting a moderate Republican to be elected to his seat and then supporting the Democratic candidate, despite criticism from GOP leaders.
In 2008, Cox was awarded the Marion Vaughn Community Service Award from the city. He said that, like his speeches on the floor of the Kansas House of Representatives, he was going to "make his point and sit down."
"I am humbled and honored to join this group," Cox said after accepting the award. "Thank you very much."
In 2009, he earned his first term on the USD 204 Board of Education. As he sought re-election to his school board seat in 2013, Cox said he was again looking to serve his community because he thought his knowledge and experience could be helpful.
"I started my life in education and have always maintained my interest," he told The Chieftain. "…Ten years of my career were in this district, and I really care about this community. Our children attended these schools and now our grandchildren are enrolled."
Daughter Christa McCloud said while he left education as a career, it remained a focus throughout his life.
"Some of my most memorable quotes from him are 'Get a good education! Education is important!'" she said. "''You can do anything you want to do, just never give up, don't be a quitter!'"
McCloud added that Cox was well known for his jokes and light-hearted demeanor.
"He could light up any room with his booming voice," she said. "I will miss his big smile and his laugh."
Pierce said Cox was more than a friend; he was like family.
"My wife actually said it pretty good: If Ray was your friend, he was your friend for life," Pierce said. "He was very loyal."
Cox's family said he had hoped to live long enough to hand is granddaughter, Amber Cox, her high school diploma at Thursday's graduation ceremony.
"I know his goal with this battle was to hand me my diploma," Amber Cox shared on Facebook. "Unfortunately his time here fell short ... but that's just fine because he's in a better place. I love this man with all I have. I know he'll be walking across the stage with me."
Cox is survived by his wife of 27 years, Judy Cox; a brother; five children and 10 grandchildren.