Class of 2015:
BLHS

senior says organization is the key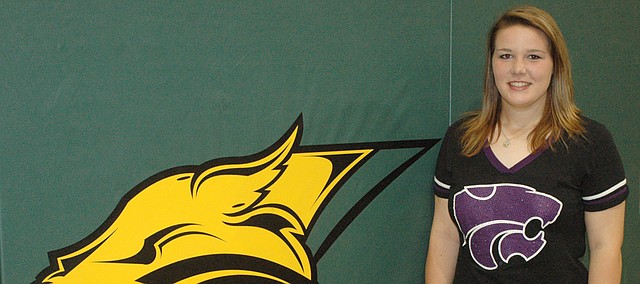 Kennedy Bowers is more than prepared to make the transition from Basehor-Linwood High School Bobcat to Kansas State University Wildcat, and she says that is largely thanks to the education she received at BLHS.
"They don't only teach us the curriculum stuff, they're really, really good about teaching us the life lessons and things that are going to come afterwards, and focused on getting us prepared for what comes next," Bowers said.
With graduation tonight, and with a GPA ranked No. 1 in her class, Bowers said the secret to her success was organization. She worked hard to get good grades, took every college credit course the school offered, and got involved in multiple school activities, but her tip to underclassman incoming high schoolers was first to learn how to effectively multitask.
"Stay organized and on top of everything," she said. "Time management is really essential … It's a lot to balance so you have to stay organized."
Among her accomplishments, Bowers earned a gold President's Volunteer Service Award and was named a Kansas Governor's Scholar, Kansas Honors Scholar, a National History Day Finalist, and a Fox 4 Young Achiever.
At BLHS, she participated in National Honor Society, Scholar's Bowl as captain, Student Ambassadors, drum major of the BLHS Band, Science Olympiad as captain, and was a state medalist in math competition. She also was a member of the volleyball, softball and powerlifting teams, earning state medals in the latter two sports.
Bowers even tried her hand at acting, recently.
"I auditioned for the play this winter, and that is very out of my comfort zone," she said. "It was definitely a good experience, though."
Outside of school, she participated in Girl Scouts and mentored through the BLHS CareCat program.
Bowers said being the drum major for the band for the last two years was one of the activities that will leave a lasting impression on her.
"It kind of puts you in a leadership role in front of your peers. It gave me more time with my band directors where they could guide me into what I was doing. They had both gone to K-State so they're helping me get into the band and do stuff there."
Bowers said she also really enjoyed her time with the Scholars Bowl team.
"It's a fun group of kids that were just so competitive, and we'll sit on the van rides and give trivia questions and play Trivia Crack," she said. "It was just a fun environment."
In February, Bowers was announced as the recipient of one of only three Presidential Scholarships at Kansas State University. The scholarship gives $80,000 over four years, or $20,000 per year.
Bowers also earned the BLMS Booster Club and Outstanding Endeavor Scholarship from within USD 458, and most recently, she received the P.E.O. Star Scholarship of $2,500 based on excellence in leadership, extracurricular activities, community service, academics and potential for future success.
When she applied at K-State, Bowers automatically qualified as a Putnam Scholar due to her high ACT score, which gave her $9,000 a year for four years. That and her GPA allowed her to apply for the Presidential Scholarship. Once she was selected as one of eight finalists from 258 applicants, she had to go through an interview process.
"They ask you the most random questions," she said. "One of them was if you could get rid of an invention with a magic wand, what would you get rid of and why. So they're just seeing how you think and how you react to that stuff."
Bowers said determining her future career was a process, because at first, she had no idea what she wanted to do.
"I knew I liked math, but I didn't really know what you could do with a math degree," she said. "So I went up and toured K-State, and one of the things they had was cryptologists, so that was really interesting to me because I've always liked puzzles and breaking codes."
From there, she learned about the computer science department, so she decided to major in mathematics and computer science, focusing on cyber security and cryptography, with minors in Mandarin Chinese and leadership.
She said she doesn't know any Chinese right now, but she knows it could be important in her career.
"It's the upcoming language in cyber security, especially if I want to go eventually NSA," she said.