BLHS

tops Bonner Springs in softball regionals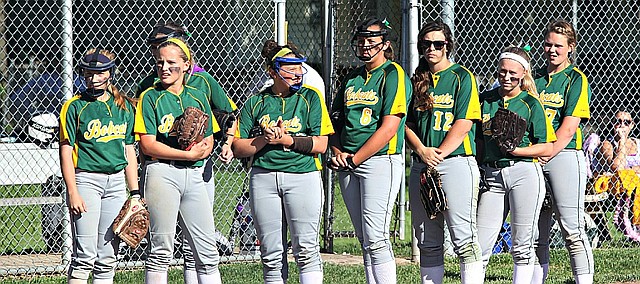 Roeland Park — The Basehor-Linwood softball team advanced to the Class 4A-Division I regional championship game with a 7-1 victory over Kaw Valley League rival Bonner Springs at Bishop Miege High School on Monday evening.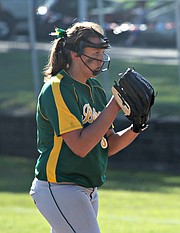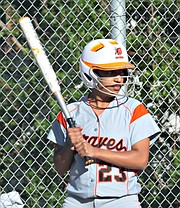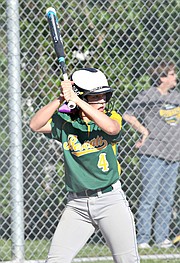 The Lady Bobcats (18-2) will face off against league foe Piper (18-3) at 4 p.m. on Tuesday at Bishop Miege for the right to advance to the state tournament. The Lady Pirates defeated Bishop Miege 4-0 in the other semifinal on Monday.
Basehor-Linwood was led by pitcher Ashley Hoffman, who came within two outs of throwing a no-hitter. She finished her complete-game outing with seven strikeouts and three walks, and did not surrender a hit until Alexis Tendick connected on a single up the middle in the seventh inning.
"She had a couple of walks I'm sure she wouldn't have liked to have, but she was hitting her spots effectively," Basehor-Linwood coach Susan Mayberry said. "She was able to just rear back and throw fastballs, and we really didn't need to go to any junk or off-speed [pitches] or anything like that."
Hoffman and Bonner Springs pitcher Hannah Fehlhafer battled back and forth through the first three innings as both teams struggled to generate any kind of momentum at the plate. Fehlhafer — who signed to play with Kansas City Kansas Community College last Wednesday — allowed seven hits, all of which came in the fourth inning or later.
"I just think we finally settled down," Mayberry said. "We had a little bit of jitters, I think. We were hitting the ball, but we were just popping it up and hitting it right at people. Then we started sitting back on it and lining the ball, and we got some really good hits with people on base."
After a three-inning stalemate, Basehor-Linwood finally got on the scoreboard in the fourth. Natalie Cowan led off the frame with a triple, and Kali Jacobson brought her home with an infield single. Hoffman then helped her own cause with an RBI single to left field, making the score 2-0.
"When our leadoff hitter goes, we kind of go with that," Mayberry said. "Natalie came out with some pretty good hits, and that kind of loosened everybody up and got them going. With her speed on the bases, it makes you relax. If one person does it, then you can just settle down and follow their lead."
The Lady Bobcats added three more runs in the fifth with an RBI double from Cowan and a two-run double from Madison McDowell, increasing the lead to five.
"Hannah stayed tough and stayed strong," Bonner Springs coach Denise Chowning said. "They got some good hits, and we had a couple of key errors that would have made it a closer ballgame."
Bonner Springs (6-13) finally answered in the top of the sixth as Annie Carpenter stole home, but Basehor-Linwood responded by scoring two more runs in the bottom of the frame. Kennedy Bowers and Cowan each delivered RBI singles to account for the final runs.
"Bonner's a good team, and they always put forth their best when they play us," Mayberry said. "We're glad to be moving on."
Despite the loss, Bonner Springs did earn a 15-0 victory over Sumner Academy earlier in the day in the regional play-in game. After a tough battle with Basehor-Linwood, Chowning said she was proud of her girls' effort.
"They supported each other, came out confident and left it all on the field," she said. "We probably played some of the best games we've played all year long. That's what you want your team to do in the last games — come and be supportive of each other and play the best they can."
---
Jon Poorman is the sports editor at The Chieftain and The Sentinel. Follow him on Twitter at @JonPoorman for all of the latest community sports news.