USD

458 employee becomes 2015 district graduate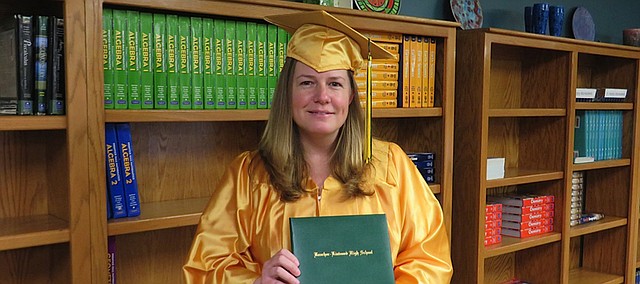 When Joan'll Montague attended Washington High School in Kansas City, Kan., in the 1990s, English was her favorite subject.
However, due to family issues and other hardships, she fell short of meeting graduation requirements by a few credits, missing her chance to walk across the stage with the Class of 1997. But now, Montague has made up for lost time and last week crossed the stage with the Basehor-Linwood Virtual School Class of 2015.
Montague and her family moved to Basehor in 2010, which is how she first heard about BLVS, and also began working for the district's food service department. She enrolled at BLVS shortly after, and over the last few years, whenever she could find time, Montague worked through her remaining credits.
"Joanie took a very challenging situation, and with a lot of hard work, perseverance and self-determination, she came out a winner," BLVS Director Nicole Hodges said.
Many of her friends, and even coworkers, weren't aware she didn't have a high school diploma, because she "wasn't proud of it."
"I didn't talk a lot about it," Montague said.
When her coworkers, the food service team at BLHS, did find out, they became part of the support system that helped her to succeed.
The accountability of keeping on track was the most difficult part of continuing through her online courses, she said, as home and family life would frequently take priority. But, she says what motivated her the most was "just showing my kids that you can do it. Never give up, and things turn out well eventually."
Thursday night, Montague participated in the BLVS and BLHS Commencement Exercises. Montague credits Hodges and academic support specialist, Tammy Potts, with making it happen for her.
"Their encouragement and support system are what make this school what it is," Montague said.
Potts says otherwise.
"She is a remarkable woman who worked hard to get her high school diploma through BLVS," Potts said. "She serves up a great Opaa! lunch, and proves the old George Eliot saying, 'It's never too late...'"