Basehor-Linwood athletes qualify for state track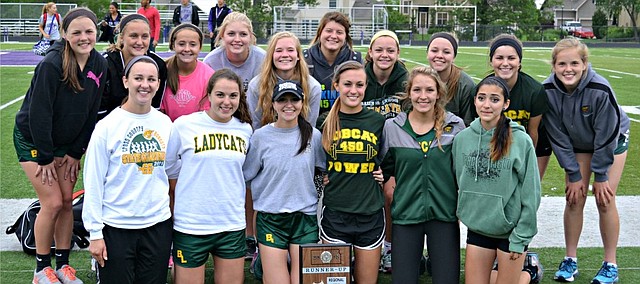 The Basehor-Linwood girls track and field team turned Friday's KSHSAA Class 4A Regional 11 track meet into Senior Day on Friday at Piper High School.
The Bobcats had six seniors qualify for this weekend's state track and field meet in Wichita, and all 70 points the squad scored at the regional meet involved the class of 2015 as BLHS took second behind defending state champion Baldwin.
Senior Sierra Smith qualified in four events, winning the regional triple jump title for the third straight year with a jump of 34 feet, 10 inches. That was the Lady Bobcats' only first-place finish on the day, but they scored points in 15 of the 18 events in one of the best overall team performances in school history.
"If you say you want to go to state, but you don't believe that you're going to get to go and don't believe in yourself, then that's going to bring you down," said Smith, who will compete in the triple jump, long jump, 400-meter relay and 1,600 relay in Wichita. "You have to believe in yourself and buy into yourself and the team."
Marriah Clayton will compete in the 100, 400 relay and 1,600 relay; Quinnlyn Walcott will race in the 1,600, 3,200 and 3,200 relay; Madison Howard will be in the pole vault and the 400 relay; Katey Trower will compete in the shot put and 400 relay; and Cassie Beattie will run the 100 hurdles.
The versatility and diversity of the senior class shines in the 400 relay, which features four seniors who qualified for state and hold school records in different disciplines. The pole vaulter (Howard) gives the baton to the triple jumper (Smith), who gives it to the shot putter/javelin thrower (Trower), who gives it to the sprint specialist (Clayton).
"It works, somehow," Smith said.
The 400 relay team medaled at state last year with Clayton, Smith and Trower running legs. Smith also medaled in the triple and long jumps last year. This will be the fourth year that Clayton and Smith have competed at state.
With one meet left, the senior class has set individually or been a part of 10 school records: triple jump (Smith), pole vault (Howard), javelin (Trower), 1,600 (Quinnlyn Walcott), 3,200 (Walcott), 400 relay (Clayton and Smith), 800 sprint medley (Clayton and Smith), 1,600 sprint medley (Clayton and Walcott), 3,200 relay (Walcott) and 2,000-meter steeplechase (Walcott).
Junior Madison Wheeler and sophomore Rachel Hiss join Clayton and Smith on the 1,600 relay team, and freshmen Katie Fulkerson and Rylea Oliver will join Walcott and Wheeler in the 3,200 relay.
The BLHS boys also will send one of its largest contingents to Wichita in many years. The Bobcats had seven underclassmen qualify for state and finished ninth as a team.
Junior Hunter Taylor qualified in two events, taking second in the 110 hurdles in 15.87 seconds and third in the 300 hurdles in 42.81 seconds.
Junior James Wilson-Shirah was third in the 100 in 11.39, and sophomore Eric Scott took third in the high jump, clearing 6-2. The 3,200 relay team of Lukas Tucker, Kurtis Tatkenhorst, Carter May and Garrett Cook finished third in 8:27.67.
Competition starts Friday afternoon and continues all day Saturday at Cessna Stadium at Wichita State University. The Bobcats plan on taking 23 athletes, including relay alternates, to Wichita for the weekend.
"Everybody supports each other. We're more of a team now," Clayton said.
The relay team gave a lot of the credit to Coach Scott Russell, who is in his third year as head coach.
"He always focuses on positive things instead of negative. We're always doing team stuff together," Howard said.