Basehor's 10th annual Dairy Days looking for sunny skies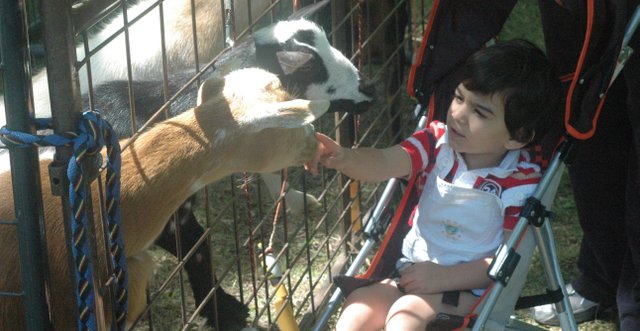 Much will be the same at the 10th Annual Basehor Dairy Days Festival, but organizers are hoping for one change over last year — sunny skies, or at the very least, no rain.
So much rain infiltrated the 2014 event that it forced most of Dairy Days' events indoors to Basehor-Linwood High School. This year, with dairy memorabilia, carnival games, crafts and more from 7:30 a.m. to 4 p.m. June 6, all events remain planned for their usual home at Basehor City Park, 15940 Leavenworth Road.
"We've always had a 'rain or shine' policy, but last year because there was so much rain, and the high school gymnasium was free, we moved things there," said Ashley Razak, a member of the organizing committee. "It's already pretty wet up there (at the park), because of the last week or so, but we'll find a way to make it work."
Dairy Days celebrates Basehor's dairy farming history with some festival fun and food, including turkey legs, corn dogs, kettle corn, chili fries, cotton candy, brisket and more. Razak said a few food vendors would be taking part at the event for the first time.
The day kicks off with the Crazy Cow 5k Run/Walk and Chris Cakes pancake breakfast at 7:30 a.m.
Registration is $35 for adults and $15 for children 13 and under, which includes a coupon for the Chris Cakes breakfast and a T-shirt. Runners also will be entered into a raffle drawing for Schlitterbahn tickets, T-Bones tickets, Casey's gift cards and other prizes.
A portion of the proceeds will be donated to the Basehor-Linwood Education Foundation.
Joggers, walkers and strollers are welcome, but participants are asked not to bring their pets. More information is available at basehordairydays.com.
Other events begin at 8 a.m., including inflatables, a petting zoo, and fair food vendors. The Gunsmoke & Petticoats Old West Show will perform at 11 a.m., 1 p.m. and 3 p.m. Local performers will include White Tiger Martial Arts at 10 a.m., Sarah's Studio of Dance at noon, JAB (Just Another Band) form 1:30 to 3 p.m. and the Junior Bobcat Cheer squad at 3 p.m.
The Basehor Lions Club will have its Mobile Heath Screening Unit available at no charge throughout the event.
Friends of the Library will host its annual pie baking contest. Contestants can drop of their pie and a $5 entry fee at the Friends booth from 8 to 10 a.m. Winners will be announced at 11 a.m., when the pies also will be sold by the slice.