Face to Face: Bonner Springs chiropractor Martha Aitkens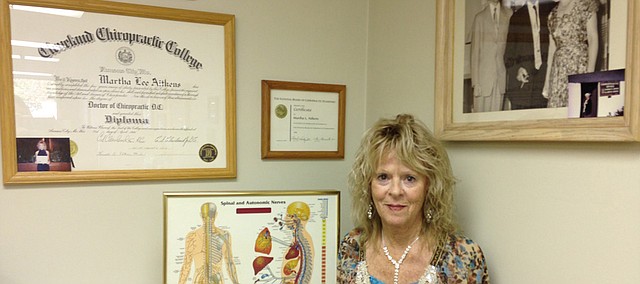 Name: Martha Aitkens
Birthplace: Kansas City, Kan.
Family: Late husband, Ron; grown son and daughter
Occupation: Chiropractor and owner of Aitkens Chiropractic, 11645 Kaw Drive
Dream job as a child: Chiropractor.
Aitkens' parents were both chiropractors, so she said she knew early on that she wanted to follow in their footsteps. Now her daughter is a chiropractor, practicing in Tonganoxie.
Hobbies: Aitkens enjoys spending time with her grandchildren and motorcycle riding, though she said her son made her sell her Harley Davidson a few years ago and turn it in for a Spyder, a motorcycle with two wheels in the front.
Aitkens and her husband also founded Bonner Springs Youth for Christ Group 35 years ago, and she continues to run the group, which meets Monday evenings at Victory Assembly Church in Bonner.
Digging deeper: While Aitkens' parents instilled a deep passion for chiropractic in her, she worked other jobs while her husband attended chiropractic school and then stayed home with her children.
She started slowly taking college courses to complete prerequisites while her children were in school and then attended Cleveland Chiropractic College, graduating with her daughter about 20 years ago.
"It was exciting; I don't regret it," she said. "And I love coming to work every day. My patients are literally my extended family."
Aitkens joined her husband's practice, which he had started in Kansas City, Kan., but moved to Kansas Avenue and Kansas Highway 7 in Bonner Springs about four years before she joined him. Two years ago, about a year after her husband's death, Aitkens moved the business to the Kaw Drive location.
Aitkens said she focuses on low force technique adjusting, acupuncture and laser therapy for skin conditions, and deep tissue healing.
Because her parents were also chiropractors, Aitkens said she has witnessed the incredible amount of growth in chiropractic services in more recent years.
"Chiropractic is covered by insurance now; medical doctors refer patients to me now," Aitkens said. "That was never, ever done before."