Basehor 3rd graders conduct mock city council meeting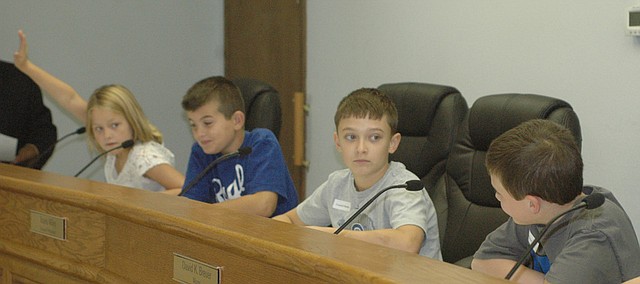 Rylee Hackmann had a good reason to wish for a little more time off of school.
"I think we should have a longer Christmas break because my birthday is over Christmas break," she said.
Debating the merits of a longer winter break was one of two items the Basehor Intermediate School third graders considered Wednesday during a mock city council meeting at Basehor City Hall — the other was whether or not to put a basketball court in Basehor City Park.
The students visited City Hall Monday and Wednesday for City Government Day, learning about the police department in addition to putting on a mock city council meeting.
The students picked their roles out of a hat to determine who would play a council member, city attorney, mayor, city administrator and other city staff roles. Basehor City Councilman Vernon Fields attended Wednesday's mock council meetings, and he tried to encourage students who picked the role of citizen and were disappointed that they didn't get to sit at the council bench.
"The most important person in the room at any city council meeting is the citizen," he told them.
Each assigned "citizen" did get a big role in the mock meetings, standing at the podium to voice their support or opposition for the two items the council considered.
A motion to lengthen the holiday break passed 4 to 1 during the first mock council meeting, with the lone opposing vote coming because the council member said students needed to spend more time learning.
But most of the "citizens" who spoke had supported the extended break, saying it would allow them more time with their families.
Fields and City Clerk Kathy Renn noted this was important, because council members had to take the opinions of citizens into account.
Georgia Moore, who got to play a council member, at first said she supported a new basketball court, but after others on the council shared their thoughts, she had a change of heart.
"I changed my mind because if people ride their bikes around city park, they might get hit in the head with a basketball," she said.
Fields praised the students for their comments and questions.
"What I see here is the exact same thing that I would see at our meetings," Fields told the students.