USD

204 gifted students on top again in Battle of Brains
Students need votes through Saturday to win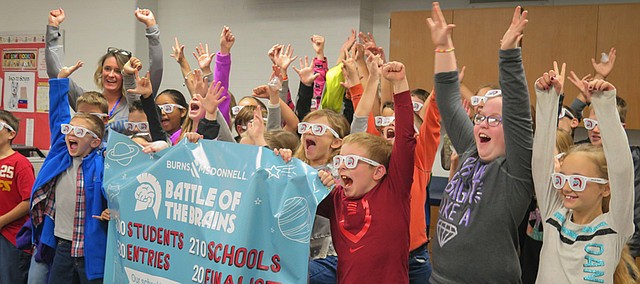 Bonner Springs-Edwardsville USD 204's gifted students have done it again.
In a repeat of 2013, the elementary students in the Opportunities With Learning program put together a proposal for a science exhibit that beat out hundreds of others to become one of 20 finalists in the Battle of the Brains competition, sponsored every other year by Burns & McDonnell and Union Station Science City. Now that they have made it this far, the public can help them go further — with the ultimate grand prize of $50,000 — by voting for their exhibit at botbkc.com/vote.
The O.W.L. program includes a total of 33 students from the district's three elementary schools. This time around, Emily McDonnell, gifted facilitator, said the students were able to use the 2013 to improve their chances of winning.
"They gave us feedback last time on where we felt they could be stronger, so we definitely amped up what we did," she said. "Anything they told us we needed, we went above and beyond."
The Battle of the Brains competition challenges both elementary and secondary students to design a hands-on exhibit that could be built at Science City. Ten finalists are selected at both the elementary and secondary levels, with the winner at each level receiving a $50,000 prize and having their exhibit constructed at the museum.
The USD 204 students' exhibit this year is called "Road Ready: The Science of Bridges and Byways." It is designed to give museum visitors the hands-on experience of a civil engineer, allowing them to design roads, bridges and intersections.
"The challenge this year was is had to be an outdoor exhibit, so whatever people designed had to survive as an outside exhibit," McDonnell said.
McDonnell said the students began brainstorming ideas at beginning of the year to come up with an exhibit topic and narrowed their list of ideas down to four. They then used judging rubric from Battle of the Brains to determine which one would score best.
The students then did a lot of research, studying bridges in the community as well as doing experiments with concrete and testing beams to see which ones would be the strongest, as they formulated a plan for their exhibit.
McDonnell said she thinks they did a better idea of outlining science, technology, engineering and math concepts their exhibit would teach and following the contest's rubric exactly.
She said while they did provide a more detailed exhibit floor plan — one item that was marked against the 2013 entry — it's the one area she feels the USD 204 entry could have improved upon.
"A lot of the winning exhibits use SketchUp (a 3D modeling software) to design their floor plans," McDonnell said. "We played around with SketchUp, but we just weren't pros at it."
But even if the students don't earn the top prize this year, McDonnell said they have already won.
"We're happy to just be in the top 10, that was really our goal, because they have such a great celebration party for the kids and everything they've worked on, it kind of feels like winning already," she said. "Anything we get beyond that is just icing on the cake."
The public vote will account for 30 percent of the final rankings; the other 70 percent will be based on judging by a panel of experts in academia, engineering and science. Voting began Saturday, and the public can vote daily, with one vote per email address provided, through this Saturday.