Basehor
VFW

dinner a success thanks to volunteers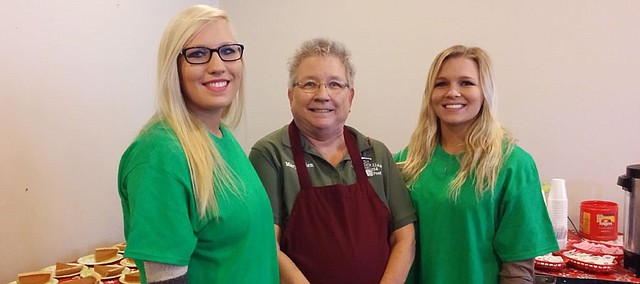 When you plan to cook a complete Thanksgiving dinner with all of the trimmings for 200 people, you can plan on not getting much sleep in the days leading up to the event.
That is true for Bob and Betty McLaughlin of Basehor. They got only about an hour and a half of sleep while cooking 10 turkeys and six hams in a 24-hour period.
Their preparations for the feast began at 11 p.m. Wednesday night, when the first five turkeys went into the oven and culminated on Saturday at the annual Thanksgiving dinner for the senior citizens and veterans of Basehor. Sponsored by the Basehor VFW, this tradition has been going on for nearly a decade.
In addition to the many VFW members and spouses who helped cook and serve the meal, many other volunteers helped throughout the day as well. Members of the Basehor Rustlers 4H group helped dinner guests with their trays of food, getting drinks and helping with clean-up. The 4H group uses the VFW building for their meetings, so volunteering the VFW Post's dinner is their way of thanking them.
"There are always lots of hands that go up when I ask for volunteers for this event," said Debbie Tindell, who is the community leader of the Basehor 4-H group. "They love to give to the community and feel part of it."
While the dinner attendees enjoyed their meal, they had no idea that the traditional pumpkin pie dessert almost didn't make it to the event. Just two days before the dinner, the vendor who had committed to provide the pies left a phone message for Betty saying that the pumpkin pie company had shorted their store 600 pies and unfortunately, the store simply did not have enough pies to sell to everyone who had placed their orders.
"Bob said to call them back, but I decided to go right to the store and talk to the manager face to face," said Betty. Personally knowing the couple, the store manager apologized and honored their commitment of providing 30 pumpkin pies to the VFW's event.
"We host this dinner to show our respect and appreciation for our senior citizens and all veterans," said VWF Post 11499 Commander Phil Jenkins.
While the serving line remained steady all afternoon, all remaining food was donated to a local food kitchen.