BLAS

continues to add families to Christmas 'Adopt-A-Family' program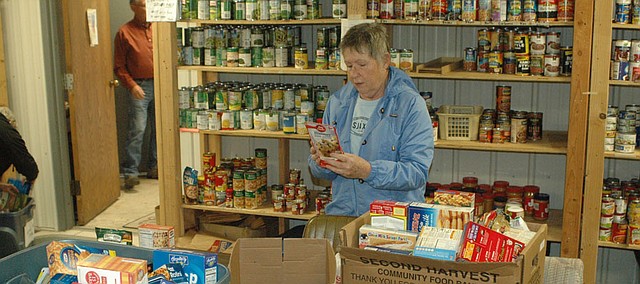 Each year, Debbie Dearinger gets to see the benefits of the Basehor community's Christmas spirit of giving first-hand.
Dearinger is the coordinator of Basehor-Linwood Assistance Services' Christmas Adopt-a-Family program, and because the families selected for the program remain anonymous, Dearinger is usually the only witness to their reactions when they receive their donated items.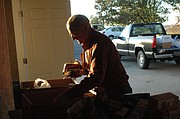 "I'm very fortunate because I get to reap the rewards; I get to see the faces and the tears and the hugs," Dearinger said. "It's a nice reward for me, when really everybody works hard to do this, with the churches and organizations that adopt families. We couldn't do it without all of them, all their help. It takes the whole community do get it done."
BLAS — an acronym pronounced "blaze" — serves families in need in Basehor-Linwood USD 458 through its food pantry, utility assistance and other special programs. Its flagship program is about to get underway, and new this year, BLAS is incorporating a "Warmth Drive" into the events surrounding the Mayor's Christmas Tree Lighting ceremony on Monday.
The organization was started by a group of ministers and other community leaders who created a Christmas Adopt-a-Family program. Families in need were identified through USD 458 school counselors, and individuals or groups from the community adopted them, buying them gifts from a wish list. A dinner also is provided to help the families celebrate the holidays.
Dearinger said in the last few years, the organization has increased the number of families that can be "adopted" by two, and that was the case this year, with the total "adoptable" families at 36.
"We help a lot of families who probably wouldn't have Christmas if it wasn't for us," she said. "We have a couple new families who moved in who we haven't helped before."
Which is why it is important for BLAS to seek out more in the community who can adopt a family or otherwise contribute to the program.
Glenda Briscoe, chair of BLAS, said "adoptable" families fill out a form, providing childrens' clothing sizes and other toy and gift interests, making buying gifts a bit easier.
But she said if someone wants to help and can't take on the adoption of a whole family, there are other options. For example, wrapping paper and tape can be donated, because BLAS leaves the wrapping of the donated gifts up to the parents.
She said stocking stuffers are another smaller item that could be donated. Additionally, BLAS volunteers could use items like scented lotions or paperback books for the "Mothers' Gift Bags" that they put together.
"Because the moms usually say they don't want anything, they just want things for the kids," Briscoe said. "So we try to get them something."
Briscoe said BLAS is thankful for the donations it recently received from USD 458 for its food pantry, which is open 6-7 p.m. most Thursdays at the Basehor United Methodist Church, 18660 N. 158th St. The donations helped BLAS provide 26 families with Thanksgiving dinner items and will keep the pantry stocked through the winter.
Briscoe said the organization continues trying to spread awareness of its services to people who don't have children in the school district.
"We're really trying to reach elderly people more," she said. "It's hard for us to reach some of the people who are really alone and need assistance."
Briscoe said the organization has had more seniors coming to the food pantry thanks to its efforts.
BLAS also will be able to serve families in a new way this winter. The chamber will collect coats, hats, gloves, mittens, scarves, blankets, and stocking stuffers at the Mayor's Christmas Tree Lighting Monday for BLAS to provide to those using the food pantry.
BLAS can be contacted at BLAS@sunflower.com or 913-955-7011.