BLHS

takes second place at De Soto Spike Fest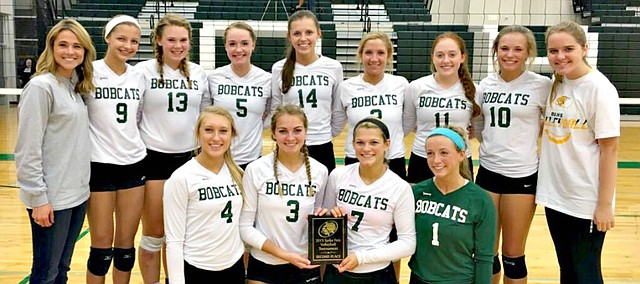 The Basehor-Linwood High School volleyball team captured second place at the De Soto Spike Fest on Saturday, finishing the event with a 4-1 record.
The Lady Bobcats, who are now 23-9 this season, started the day with a 2-0 sweep over Leavenworth, winning 25-12, 25-16. Courtney Norris and Courtney Robinson each finished with a team-high six kills, and Robinson paced the offense with 12 assists. Nicole Rutherford had four aces, and Katie Yankovich had three blocks.
Basehor-Linwood then picked up a 2-1 victory over Tonganoxie, winning 25-15, 23-25, 25-19. Jenna Mussett and Madi Osterhaus led the team with nine kills apiece. Rutherford and Robinson recorded 19 and 16 assists, respectively. Jaime Weible tallied 10 digs, and Kenna Hoffman finished with nine.
The Lady Bobcats kept rolling from there with a 25-13, 25-18 win over Spring Hill. Osterhaus led the way with nine kills, and Robinson had six. Rutherford and Robinson posted 17 and 11 assists, respectively.
Basehor-Linwood earned their final victory of the day, winning 25-17, 25-22 over Shawnee Mission South. Norris posted 10 kills, and Osterhaus had six. Weible had a team-best 15 digs, and Rutherford tallied 12 assists.
The Lady Bobcats ended up in second place after falling to Lansing 16-25, 26-24,18-25 in the championship match. Mussett led the way with nine kills, and Morris finished with seven. Rutherford posted 14 assists, and Robinson had eight.
Basehor-Linwood will be back in action at 6 p.m. on Tuesday as it hosts Piper.
---
Jon Poorman is the sports editor at The Sentinel. Follow him on Twitter at @JonPoorman for all of the latest community sports news.