Lady Bobcats sweep Piper on Senior Night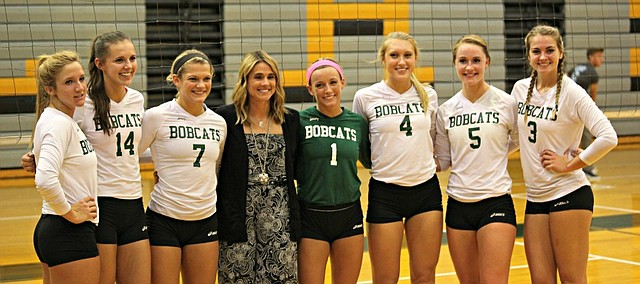 It was an emotional start to the night for the Basehor-Linwood volleyball team on Tuesday as the players, coaches and fans celebrated seven seniors for their contributions to the program over the past four seasons.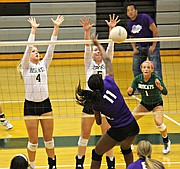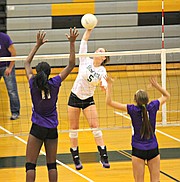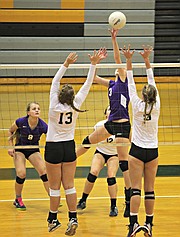 But once the happy tears had dried and the hugs had been dealt, the Lady Bobcats did what they've been doing the majority of the season: dominate their opponent on the court. Kaw Valley League rival Piper was the victim this time as Basehor-Linwood rolled to a 25-17, 25-20, 25-11 victory.
"Huge, huge. Senior Night, there's so many emotions," BLHS coach Amy Irvin said. "The seven seniors, three of them have been with me for four years since they were freshmen, so just the emotions were really, really high. And so they just knew, they played well as a team, they knew what it was going to take. We knew what Piper had. We'd seen them at tournaments and stuff this year, so it meant a lot."
The Lady Bobcats (24-9) were led by senior Courtney Norris, who recorded 11 kills and five digs. Fellow senior Madi Osterhaus posted seven kills, and senior Jaime Weible had a team-best nine digs. Seniors Courtney Robinson and Nicole Rutherford paced the offense with 14 and 12 assists, respectively.
Blocking was key for Basehor-Linwood against a couple of heavy-handed hitters from Piper. The Lady Bobcats finished with six total blocks, including four from Osterhaus, four from sophomore Katie Yankovich, two from senior Jenna Mussett and one from senior Mikala Grover.
"We took second at our tournament on Saturday, and before that, we focused a lot on blocking," Irvin said. "We can hit. Sometimes our blocking, we just leave a hole or don't push where we need to. We've really been focusing on the blocking, and tonight that stood out in my opinion. We were to close hitters that they have, that they need to have, and it definitely helped us."
The Lady Bobcats will be back in action at 5 p.m. on Thursday as they play host to Blue Valley Northwest and Shawnee Mission South.
---
Jon Poorman is the sports editor at The Sentinel. Follow him on Twitter at @JonPoorman for all of the latest community sports news.