Perfect Patch: Kerby Farm part of families' fall traditions
Bonner pumpkin farm still growing after 11 years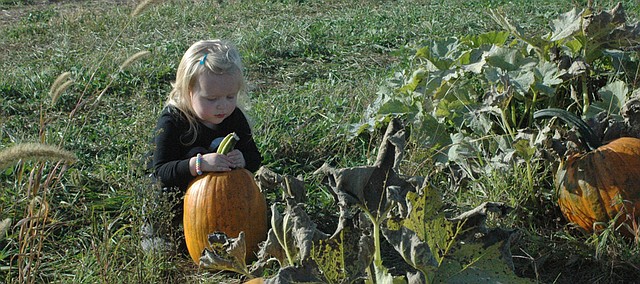 Now in its 11th year of operation, Terri Kerby says she still experiences a moment of surprise when families tell her that coming to the Kerby Farm pumpkin patch has become a tradition.
"People say 'Oh, we come there every year,' and your mind, you're going, 'Every year — we just opened,'" she says. "You have to stop and think, in a child's life, four years, five years, we've watched them grow up. Because we do have a lot of repeats who say 'We come every year, you've become a tradition,' and that makes us feel good."
Just a bit north of Kansas Highway 32 on 158th Street, a few miles west of Bonner Springs and south of Basehor, the Kerby Farm pumpkin patch has continued to grow more popular over the years, open on Fridays, Saturdays and Sundays, late September through Halloween.
Terri Kerby, who operates the pumpkin patch with her husband, Jim, said attendance has grown as they have done a better job of spreading awareness by participating in local parades.
"I think each year it goes just a little bit more," she said.
And its longevity really hits home for Kerby when she thinks her grandson, who was only 5 when the pumpkin patch opened, now is old enough to drive the tractor pulling the hayride out to the pumpkin patch.
The Kerbys work to add a few new elements every couple of years, but they keep the business geared toward younger children's activities. The pumpkin patch includes slides, zip lines, a haunted house, a gift shop, tractor-train rides, photo ops, and a corn maze, as well as an area with farm animals. The farm also now opens for field trips during the week.
"We just try to keep it the farm, country experience and just create a safe place for kids to come," Terri Kerby said.
While they have enjoyed the growth, they also enjoy the more intimate atmosphere they have created.
"There's some days it feels like crazy, but when you have 1,000 people over eight hours," Kerby said. "There's days you have to wait for the hay ride, but we try not to keep lines, and I think we're still at a small enough stage that we're not crazy."
Over the years, the weather has sometimes caused difficulty with the pumpkin crop — because of the rain, there's reportedly a nationwide shortage of pumpkins.
"That's the hardest thing is the pumpkins; this year, Jim planted them twice because of the rain," Terry Kerby said. "But luckily, knock on wood, we rarely lose weekends to rain. Maybe, out of all of the years, we've lost only two or three weekends to rain."
Admission is $7 per person ages 3 and up, and covers all activities. Find more information at kerbypumpkinpatch.com or by calling (913) 441-1766.